Langley, BC, Mar.04, 2016 –
Horse Council BC Vice President of Membership & Marketing Allison Warren presented the Horse Council BC (HCBC) 2015 Coach of the Year Award to Jessie Blackmon at a celebration honouring her achievements in Langley, BC on March 3
rd
.
HCBC's annual awards serve to honour outstanding achievement within BC's equestrian community.  These awards acknowledge those who have stood out from the crowd over the past year and who have made a positive impact on the community as a whole. Each award recipient was nominated by two or more other Horse Council BC members for an award.
HCBC is reaching out to the various equestrian communities throughout BC so that we are able to present each award at a recipient's club, competition, or event of their choice, surrounded by their friends and the people that support them.
The HCBC Coach of the Year Award is awarded to an individual who has demonstrated outstanding professionalism, leadership, and mentoring skills in a coaching role overseeing a team or individual at any level in any recognized equestrian discipline during the year.
The 2015 Horse Council BC Coach of the Year Award was presented to Jessie Blackmon.
At 29 years old, Jessie is
a one of a kind coach in her ability to teach a wide variety of horses, students, and disciplines. She educates her students on the full spectrum of horsemanship – from groundwork to foundation training to higher level dressage, eventing, jumping or western riding and does so with integrity and determination. HCBC received over 12 nominations for Jessie for Coach of the Year when only 2 are the required amount to be considered "in the running" which shows just how much her students want to support the great work she does.  Jessie is passionate about what she does and inspires her students
to keep learning and growing no matter their age or experience level.
Congratulations Jessie!  Well deserved.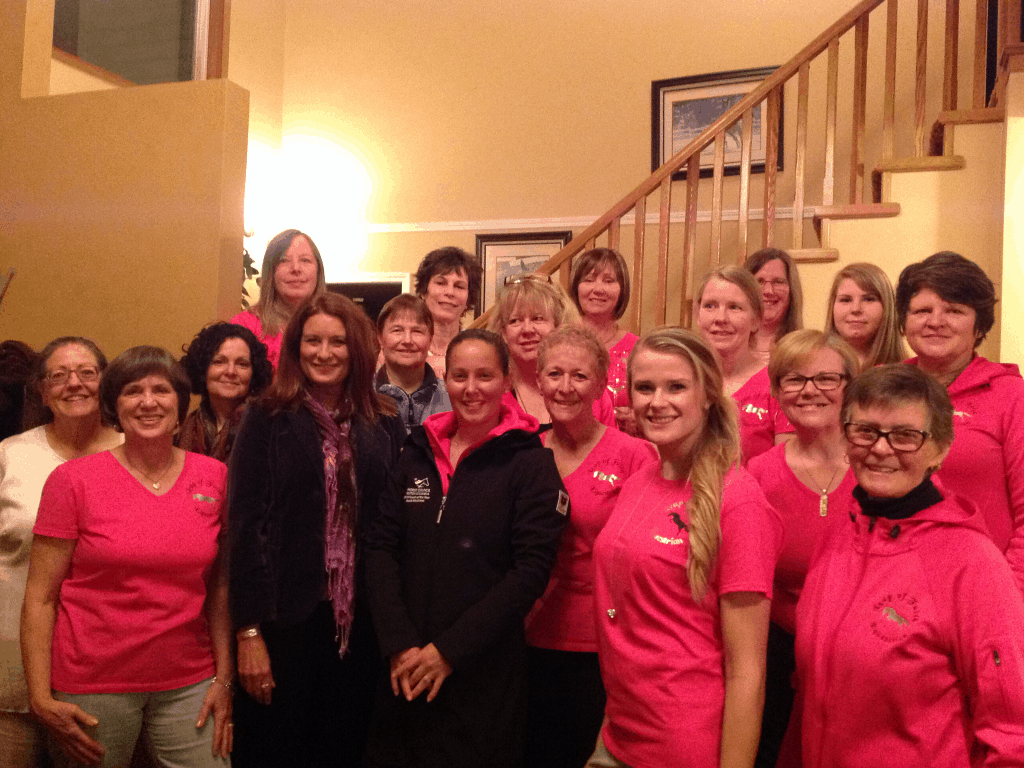 Photo: Jessie Blackmon receiving her award from HCBC's Allison Warren amongst all her students and nominators at a party honouring her achievements on Thursday, March 3, 2016.
About Horse Council BC
Horse Council BC
is a membership-driven not-for-profit association representing the interests of the equine industry in all sectors throughout British Columbia. Tradition, strong values and superior hard work provided by our volunteers has made Horse Council BC the largest and most successful multi-discipline, multi-breed equine association in Canada.
Horse Council BC continues to grow each year with membership reaching over 23,000 in 2014. Horse Council BC actively represents the equine industry in agriculture, industry, sport, and recreation through education, grant funding, club support, government lobbying, liability insurance, and participant programs.