Emergency Planning Resources
Emergency preparedness is critical for all livestock owners and caregivers. Educating yourself, your employees and family members as well as taking the time to plan ahead can help you make better decisions during a crisis.
These resources will  help you collect important information, organize communication, and consider what you will need to prepare your farm for an emergency,  To prepare your emergency plan, focus on gathering information for these 5 management areas for your farm.
 Emergency Contacts: who to call first when something goes wrong
Daily Animal Care: how to/who will care for stock if you must shelter in place
Labor Management: how much help do you need in an emergency
Obtaining Resources: getting what you need to keep the farm going for a short while
Evacuation Process: who is hauling your livestock, where will they go
Remember it is better to have this contingency plan in place BEFORE something happens, so you can prepare your emergency contacts with training and information before a crisis hits. There are a variety of reputable resources available for building an emergency response plan.  This platform will feature some important considerations when building an emergency plan.
The following information is free for download to help horse owners prepare for emergencies.
The Emergency Preparedness Modules offer solid pragmatic directions to help you prepare BEFORE disaster strikes. These video presentations are for owners, barn managers, rescue facilities and volunteers and anyone else who may be part of the response process during a disaster.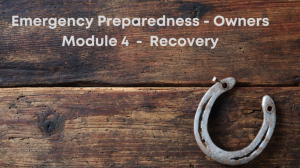 YOU'RE COVERED!
Automatic Coverage's included with your HCBC membership:
The Personal Liability coverage includes non-commercial care, custody and control of up to a maximum of 3 non-owned horses including Legal Liability for Non-Owned Horses of $10,000.00 per horse/ $50,000.00 per accident.
Transportation Insurance for Non-Owned Horses protects against lawsuits for death of someone's horse while you are transporting that horse subject to a limit of $10,000.00 per horse / $50,000.00 per accident and excluding commercial transportation of horses.