Ottawa, ON, June 22, 2017 – The Equestrian Canada (EC) Board of Directors met face-to-face at the EC office on June 20 and 21, 2017, where a financial update was provided.
As previously reported to the voting membership during the finance update at the 2017 General Meeting of Members held at the EC Convention in Vancouver, BC, EC is on plan to finalize its financial statements for 2016/2017.
Furthermore, it was reported to the Members at the 2017 General Meeting that financial reports provided to the Board indicated that the Federation is within 1.5% of its approved budget. Outgoing Director of Finance Mike Mouat continues to work with EC and newly appointed Controller Rob Westgarth to complete 2016/2017 financial statements.
Westgarth confirmed that the current projections for year-end budgeted revenues and expenses have slightly improved since the 2017 General Meeting, and EC is now within a margin of 1.4% of its projection for the year.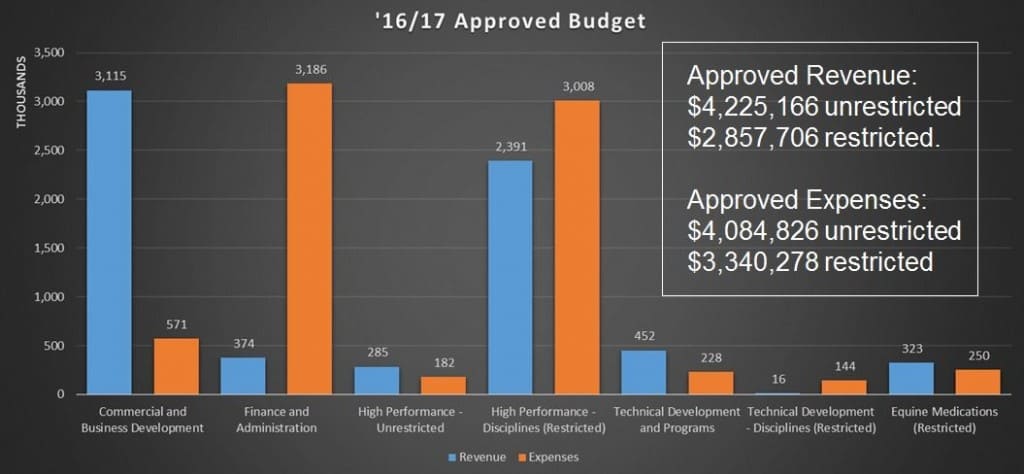 It was noted that the planned expenses in the restricted funds exceed the approved revenues due to planned draw down on the discipline reserves by the Discipline Committees.
EC continues to maintain its standing as a Canadian Not-for-Profit organization and is in compliance with its fiduciary obligations to provide audited financial statements to its Members. EC will commence its audit process with KPMG July 10, 2017 with a targeted completion date of August 15, 2017.
A copy of the 2016/2017 financial statements and 2017/2018 budget will be published prior to the commencement of the audit.
– 30 –
EC Media Contact /
Personne-ressource de CE pour les médias :
Jessie Christie
[email protected]