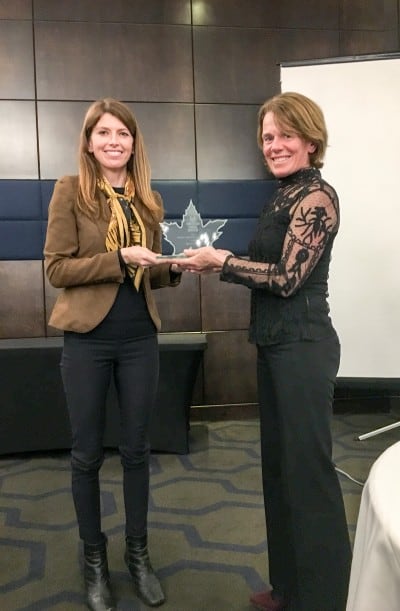 Langley, BC, March 26, 2018 – Maeve Drew of Duncan, BC was presented with the Equestrian Canada Competitive Coach of the Year Award at a dinner following Horse Council BC's Annual General Meeting on March 24th. Equestrian Canada's President Meg Krueger was in attendance to present the award to Maeve.
The Competitive Coach of the Year Award is designed to recognize a current and active EC NCCO Coach working with competitive athletes. Someone who respects everyone involved in competition and demonstrates good sportsmanship, focuses on the complete development of their athletes, is a positive role model, have the ability to improve athlete performance, share knowledge with other coaches and continually strive to improve through professional development opportunities.
This is a well-deserved award for Maeve, who puts in many hours teaching her own students on Vancouver Island, as well as teaching many clinics around the province and in the US. In addition to that, Maeve acts as the Horse Trials BC Young Rider Coach Leader and has been responsible for the facilitation of activities for the BC Young Riders Program since 2013. This past year she also acted as Chef D'EQuippe for our BC Team at the North American Junior Young Rider Championships.
Her commitment to creating strong basics and fundamentals allows her riders to come up through the levels with confidence and solid skills. Always encouraging, with a positive attitude, Maeve puts her focus on teaching strong skills and excellent care of the horses. Being such a positive coach and role model to not just her own students, but riders across the province, and her commitment to building the sport through BC's Young Riders, makes Maeve a very deserving recipient of this award.