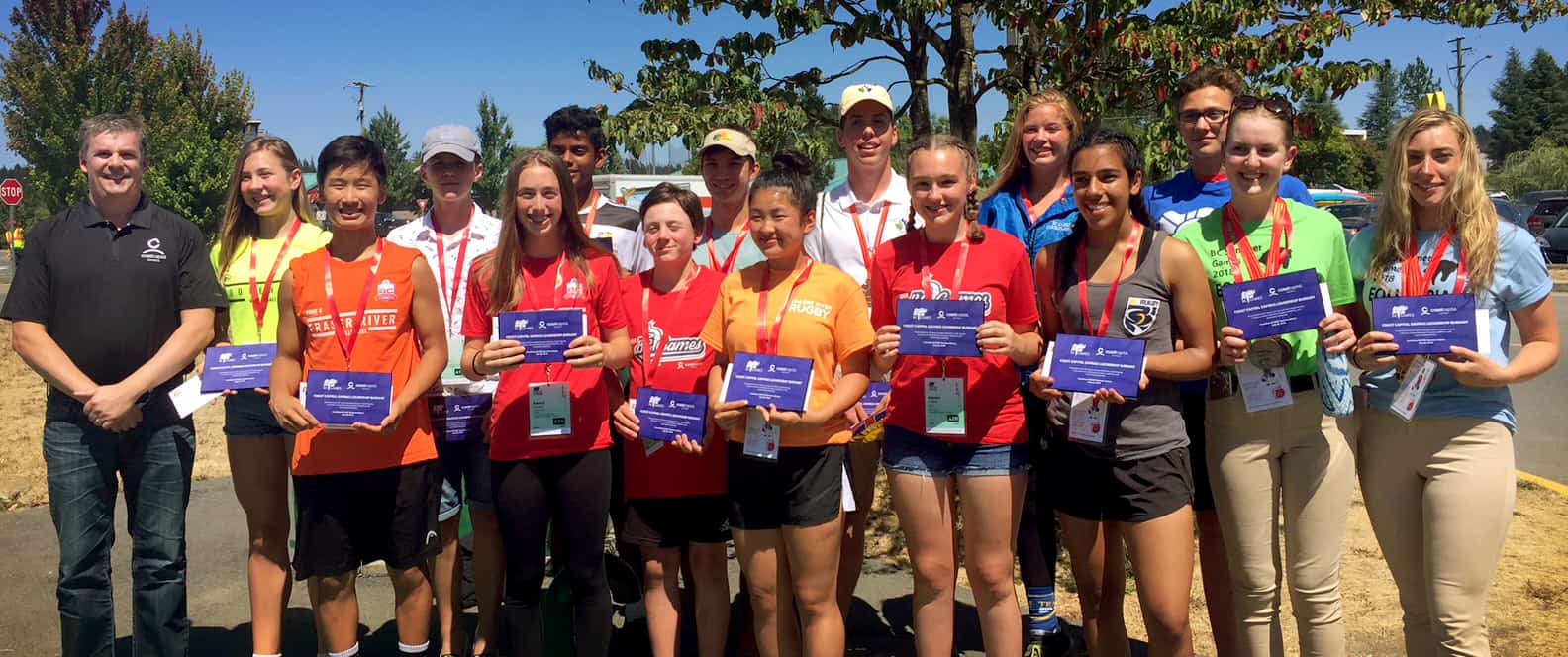 16 outstanding youth leaders were recognized with a Coast Capital Savings Leadership Bursary at the Closing Ceremony of the 2018 BC Summer Games in Cowichan.
The bursary recipients were chosen from over 200 applicants for their significant achievements in sport and education and most importantly for their leadership contributions to their schools, community, or sport associations. The recipients are from communities across the province and their leadership involvement includes service with student councils, community events, food banks, fundraising, coaching, and officiating, to name a few.
"The BC Games provides our province's youth with the opportunity to challenge themselves, build connections with each other and have a whole lot of fun while doing it," said Ian Thomas, VP, Corporate Partnerships and Development with Coast Capital Savings. "Coast Capital Savings is thrilled to recognize the hard work of these impressive young athletes," Thomas continues. "These young people have shown amazing accomplishments not only in their athletic pursuits, but also in the arenas of community leadership and education. These awards recognize all of those achievements together, making them really unique."
The BC Summer Games are an important opportunity for sport development, but through sport, these 16 accomplished young people are also learning lifelong skills of commitment and leadership.
"Every one of these athletes is dedicated to their sport but, they are truly impressive in what they contribute to their schools and communities" said Kelly Mann, President and CEO of the BC Games Society. "It is an honour to provide this bursary and we look forward to seeing the impact of these young leaders in the future."
Below is the full list of 16 athletes who were recipients of the Coast Capital Savings Leadership Bursary for the 2018 BC Summer Games:
| | | |
| --- | --- | --- |
| Name | Hometown | Sport |
| Abigail Betker | Kimberley | Volleyball |
| AJ Roberts | Castlegar | Golf |
| Kenedi Woodcox | West Kelowna | Volleyball |
| Zackary Kuan | Kamloops | Lacrosse – Box |
| Hailey Besse | Abbotsford | Equestrian |
| Jacob Challman | Chilliwack | Lacrosse – Box |
| Makaila John | Burnaby | Rugby |
| Nathanael Kang | Surrey | Volleyball |
| Raeiti Azarkeyvan | North Vancouver | Rugby |
| Divyan Karunakaran | Richmond | Soccer |
| Leslie Therriault | Nanaimo | Equestrian |
| Brett Merner | Nanaimo | Basketball |
| Katie Andrews | Terrace | Athletics |
| Gabe Barker | Smithers | Athletics |
| Haley Florell | Prince George | Rugby |
| Owen Lang | Fort St. John | Swimming |
Congrats Leslie ans Hailey!!!!