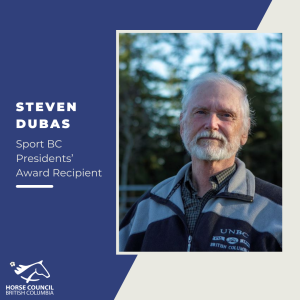 Long time HCBC member, Steven Dubas has received the highest sport volunteer recognition award in British Columbia, the Sport BC Presidents' Award, as a Presidents' Awards recipient, Steven will be recognized as the sport volunteer who has shown outstanding dedication and commitment to sport at the awards ceremony held in Vancouver in March
In recognition of his dedication and tireless efforts to support Equestrian Sport at the BC Summer Games, it is was with great pleasure, Horse Council BC brought forward a nomination for Steven Dubas in consideration for the Presidents Award.
Steven Dubas has been an integral volunteer for HCBC for over 20 years, most recently by accepting the role of Equestrian Sport Chair for the 2022 BC Summer Games.
Steven was selected by HCBC Competition Committee for this role because of his proven commitment, reliability and friendly go get 'em attitude.
The position of Equestrian Sport Chair is a daunting and time-consuming role. Countless hours are spent liaising with the PSO, Host Community, BC Games and venue management.
Steven also was responsible for volunteer recruitment, organizing venue requirements and trouble shooting all along the way. Additionally, Steven worked closely with the City of Prince George on the construction of a new competition arena, ensuring deadlines and timelines were met. This legacy project will provide the City of Prince George with a top-notch riding area that will be available for use and assist with the development of Equestrian Sport in the community for years to come.
Throughout the entire term in his Sport Chair Role, Steven always had a smile on his face and was easily accessible and ready to jump in and help whenever and wherever he was needed.
Steven's inspirational dedication and support of Equestrian Sport makes him a worthy recipient of the Presidents' Award.
Horse Council BC is grateful to Sport BC for this opportunity to acknowledge a great volunteer.
Congratulations Steven!