BC SUMMER GAMES 2022 
   The Road to Prince George Starts Now!

Click here to follow along and view the results for the 2022 Games!
BC Summer Games 2022 Photo Page
Make it your goal and part of your yearly training plan to set your sights at competing at the BC Summer Games!
EQUESTRIAN AND PARA-EQUESTRIAN TECHNICAL PACKAGES
If you are an athlete competing in Dressage, Eventing, Jumping or Vaulting click on the EQUESTRIAN TECHNICAL PACKAGE icon  for information on
contacts, team structure, coaching  and qualifying criteria.
If you are a Para-Equestrian click on the PARA-EQUESTRIAN TECHNICAL PACKAGE icon  for information on  contacts, team structure, coaching  and qualifying criteria.
BC Summer Games Athlete Information Presentation
2022 BC Summer Games Social Media Guidelines
Sport Schedule 22 SM – Equestrian
Sport Venue Site Maps Equestrian
BC Summer Games 2022 Team Equestrian in the News:
Three para-equestrians to compete in BC Summer Games in Prince George
---
BC Summer Games "Game Ready" Athlete Development Program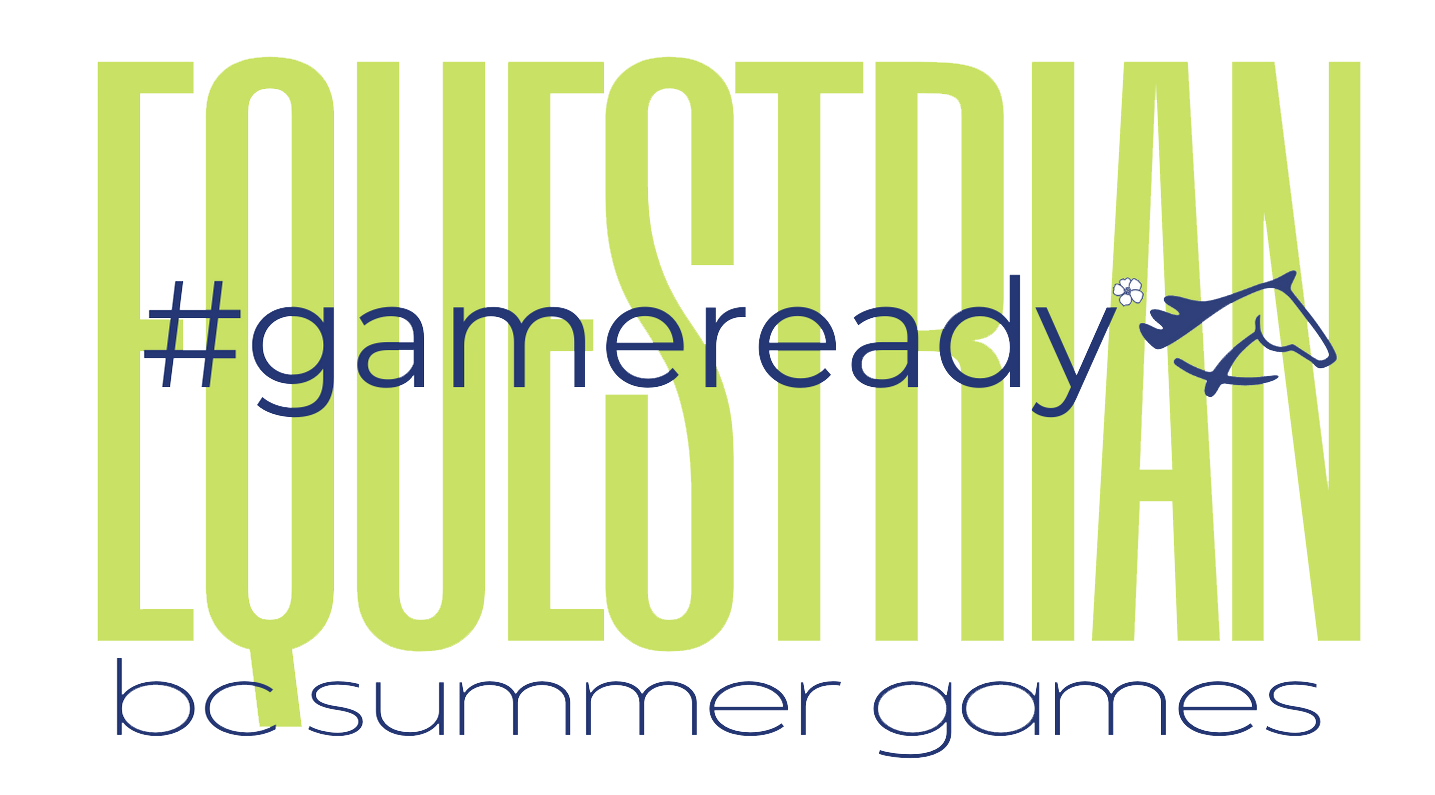 To help better prepare our Equestrian Athletes for competition at the BC Summer Games, Horse Council BC is pleased to introduce the BC Summer Games "Game Ready "Athlete Development Program!
The Game Ready program is available to Equestrian Athletes between the ages of 11 to 17 that are interested in competing in either the upcoming 2022 BC Sumer Games in Prince George or young equestrians who have their sights set on competing at a future games.
Game Ready Camps will be offered in all 8 Summer Games Zones in BC. Click here for Zone Map.
The program will consist of one three-day in person camp including:
group sessions on topics such as: what to expect at the Summer Games, proper turn out for both horse and rider, and preparing yourself mentally for competition
two days of invaluable discipline specific instruction from expert clinicians.
Camp registrants will also receive exclusive camp swag and invitations to informative and educational webinars throughout the year.
All of this for an affordable $75.00!
Click here for more information
 NEWS AND UPDATES
---
Due to the possibility of not having enough shows held within the qualifying period for the 2022 BC Summer Games, HCBC approved clinics for all disciplines and or Virtual Competitions for Vaulting, Para- Equestrian and Dressage  may now be used as qualifying events.
Find a Summer Games Qualifying Show here:https://hcbc.online/Calendar
Pease contact [email protected]  for more information
---
____________________________________________________________
WHAT ARE THE BC SUMMER GAMES?
The BC Winter and BC Summer Games are British Columbia's biennial celebration of sport and community.  Since 1978, the BC Games have taken place in 38 communities and involved over 350,000 participants and volunteers and thousands more as spectators and supporters. The purpose of the BC Games is "To provide an opportunity for the development of athletes, coaches, and officials in preparation for higher levels of competition in a multi-sport event which promotes interest and participation in sport and sporting activities, individual achievement and community development." The BC Games bring together British Columbia's best emerging high performance athletes, trained coaches, and certified officials for three days of competition.  This experience is an important development opportunity and stepping stone towards higher level sport competitions. Host Communities of the BC Summer Games will realize a direct economic benefit of over $2 million while also building volunteer and community capacity and promoting sport and healthy living. Rise above. Reach beyond.
Find Your Zone for BC Summer Games! Check out the online interactive Zone Map from BC Games.  Zone Map
CONTACTS
Provincial Advisor Equestrian
Lynda Ramsay
(250) 470-0424
[email protected]
Provincial Sport Organization Equestrian
Horse Council BC
(604) 856-4304
[email protected]
BC Games Society
https://www.bcgames.org/