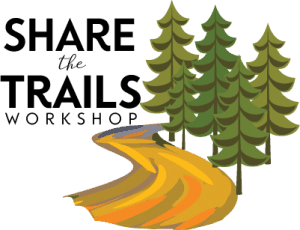 UPDATE:
Due to the COVID-19 pandemic we will not be hosting a 2021 Share the Trails workshop in the original province wide format. The Outdoor Recreation Council of BC and Horse Council of BC are brainstorming ways to offer a workshop that will follow COVID-19 protocols. Please check back for updates on the 2021 Share the Trails workshop.
Hosted by Horse Council BC in cooperation with the Outdoor Recreation Council (ORC), this forum meets the strategic goals of HCBC by building partnerships and improving government relations with the equine industry. It continues the dialogue started in 2011 during the BC Equestrian Trails Roundtable held in Kelowna, where there was a focus on building bridges between outdoor recreation groups with shared interests and learning how to represent the interests of the outdoor recreation community to government, industry and to the public. At each workshop, there has been a clear message that in order to be able to work collaboratively with all orders of government, First Nations, and private land owners, all trail user groups must work together when advocating for new trails or improvements to existing trails.
If you have any questions regarding the Share the Trails workshop please contact [email protected].