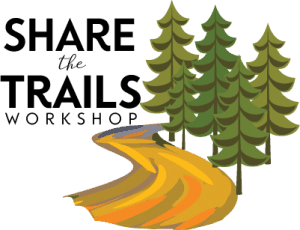 DETAILS:
Share the Trails isn't just about sharing the trails; these annual workshops are about sharing ideas and strategies, too. Join Horse Council BC and the Outdoor Recreation Council of BC in Prince George to get inspired by a great line-up of outdoor recreation topics and meet others who love the outdoors too – one thing we discover every year is that we have a lot more in common than we think!
REGISTRATION:  By invitation.
If you wish an additional member of your organization to attend please check with us first. Please note that registration will be on a first come, first served basis as seating is limited.
COSTS: There is no cost to attend this workshop. Lunch and refreshments are complimentary
Hosted by Horse Council BC in cooperation with the Outdoor Recreation Council (ORC), this forum meets the strategic goals of HCBC by building partnerships and improving government relations with the equine industry. It continues the dialogue started in 2011 during the BC Equestrian Trails Roundtable held in Kelowna, where there was a focus on building bridges between outdoor recreation groups with shared interests and learning how to represent the interests of the outdoor recreation community to government, industry and to the public. At each workshop, there has been a clear message that in order to be able to work collaboratively with all orders of government, First Nations, and private land owners, all trail user groups must work together when advocating for new trails or improvements to existing trails.