Horse Council BC's 2014 Horse of the Year-Non-Competitive Award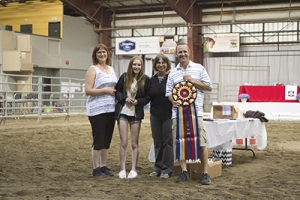 Langley, BC, June 02, 2015 – Former Horse Council BC Board member Barb Schmidt presented the HCBC 2014 Horse of the Year (Non-Competitive)Award to Snap Around Jackie at the Chilliwack, BC Concours Voltige International (CVI) on Saturday May 30, 2015.
Horse Council BC's annual awards serve to honour outstanding achievement within BC's equestrian community.  These awards acknowledge those who have stood out from the crowd over the past year and who have made a positive impact on the community as a whole.
HCBC is reaching out to the various equestrian communities throughout BC so that we are able to present each award at a recipient's club, event, competition, or barn party of their choice, surrounded by their friends and the people that support them.
The HCBC Horse of the Year – Non-Competitive Division award is awarded to a horse who was born and raised in BC and who, over the year, over the year(s), has really shone bright and stood out from the crowd.
The 2014 Horse Council BC Horse of the Year – Non-Competitive Division Award was presented to a Quarter Horse mare that had an outstanding life! Jackie, as she was known, was born in Terrace, but was raised and lived in Langley her entire life. Jackie started life out with (the Humphrey family by being traded for a 1981 Ford Truck. She started her early years as a rodeo horse – barrel racing, team roping, breakaway roping, and grand entry.  She helped the Humphrey's win the Team Roping Championships in the BC Team Roping Association and helped Chenine Humphrey to qualify for the BC Rodeo Finals in breakaway roping.  Jackie and Chenine entered the new world of reining several years later and went on to achieve many Championships and Year End High Point Awards in the Western Canadian Reining Association and Pacific Reining Association.
At the age of 18, Jackie was brought out of retirement to start a new career as a vaulting horse.  She was always calm and quiet and the perfect horse to build confidence on.  Although she had a long competitive career, Jackie will be most fondly remembered as the horse that looked after everyone who rode her (from rock stars to para-olympians to young children) and who proudly carried her owner, Chenine Humphrey, dress and all down the aisle at her wedding.  This amazing red mare sadly passed away in November of 2014 after an amazing life with her family.
Congratulations and heartfelt condolences to Jackie's owners, the Humphrey Family of Aldergrove, BC for raising and training such an amazing horse right in our own backyard.
Photo: Chenine Humphrey, Treena Humphrey, presenter Barb Schmidt, and Trace Humphrey with the Horse of the Year Non-Competitive award for Snap Around Jackie.