Horse Council BC's 2014 Volunteer of the Year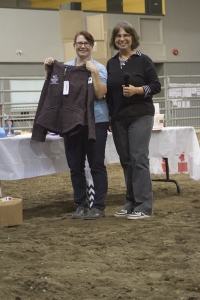 Langley, BC, June 02, 2015 – Former Horse Council BC Board member Barb Schmidt presented the HCBC 2014 Bob James Volunteer of the Year Award to Charlene Kostecki at the Chilliwack, BC Concours Voltige International (CVI) on Saturday May 30, 2015.
Horse Council BC's annual awards serve to honour outstanding achievement within BC's equestrian community.  These awards acknowledge those who have stood out from the crowd over the past year and who have made a positive impact on the community as a whole. Each award recipient was nominated by two or more other Horse Council BC members for an award.
HCBC is reaching out to the various equestrian communities throughout BC so that we are able to present each award at a recipient's club, event, competition, or barn party of their choice, surrounded by their friends and the people that support them.
Noel Asmar Equestrian is the official sponsor of HCBC's 2014 Awards. Noel Asmar Equestrian has supplied each 2014 HCBC Award winner with Asmar's coveted Hunter Jacket! Each jacket is beautifully embroidered to recognize each recipient.
The HCBC Bob James Volunteer of the Year Award is awarded an individual who has demonstrated outstanding dedication and commitment to BC's equestrian community and sport in any recognized discipline. during the year.
The 2014 Horse Council BC Bob James Volunteer of the Year Award was presented to Charlene Kostecki of Delta, BC.  Charlene has been a dedicated volunteer parent in Equestrian Vaulting for many years. In 2014 she was an integral part of the successful year of vaulting in BC and for Vault Canada.
She is the Equestrian Vaulting Assocation of BC (EVABC) Secretary, a Director for Vault Canada, and the BC Representative to Vault Canada. She was the Show Organizer and Show Secretary for the 2014 BC Vaulting Provincials, the Canadian National Vaulting Championships, and the CVI Canada Cup.
Charlene worked tirelessly on preparations for each of these competitions, aiming for the highest level of professionalism and sportsmanship at each one. Then the day to day logistics, from organizing entries, to order of go, liaising for national and international judges and stewards travel and accommodation needs, awards and presentations, show venue preparations, and meeting all the requirements of the governing body rules including EVABC, Vault Canada, and the FEI.
All of her efforts have been an integral part of helping grow Equestrian Vaulting in Canada into a professional and positive sport for competitors and spectators alike.  Congratulations Charlene!  Well deserved.
Photo: Barb Schmidt presenting the Noel Asmar jacket to Charlene Kostecki at the Concours Voltige International (CVI) on May 30, 2015.