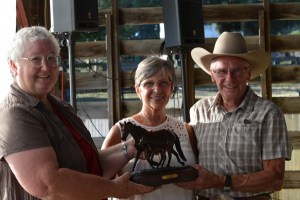 Horse Council BC (HCBC) Board member Carolyn Farris presented the HCBC 2014 Sherman Olson Lifetime Achievement Award to local horseman, Bob Grimshaw at a special dinner celebration arranged by Anna Green and Janet and Buck Critch in Armstrong on July 18th.
Horse Council BC's annual awards serve to honour outstanding achievement within BC's equestrian community.  These awards acknowledge those who have stood out from the crowd over the past year and who have made a positive impact on the community as a whole. Each award recipient was nominated by two or more other Horse Council BC members for an award.
HCBC is reaching out to the various equestrian communities throughout BC so that we are able to present each award at a recipient's club, event, competition, or barn party of their choice, surrounded by their friends and the people that support them.
Horse Council BC's Sherman Olson Lifetime Achievement Award was established and first presented in 1981 to honour individuals who have made exceptional contributions to BC's equestrian community. These contributions, whether they have been through education, mentoring or leadership, have made a lasting footprint demonstrating a lifetime of commitment and dedication to the on-going progression of the equine industry. Each recipient of this prestigious award is a BC resident having achieved prominence through commitment and hard work, in turn positively impacting BC's equine industry and inspiring others. This award is only awarded when warranted and is not necessarily awarded every year. The Lifetime Achievement Award is considered the premier award of Horse Council BC.
Bob Grimshaw receive the 2014 Sherman Olson Lifetime Achievement Award for not only being on the ground floor of the development of the Quarter Horse industry in British Columbia and Alberta with more than 40 years of hard work and dedication, but for a series of accomplishments while mentoring riders and raising the level of competition. He has impacted the horse industry both locally, provincially, nationally, as well as internationally.
One nominator says this of Bob, "He is a horseman, a mentor and a gentleman and we're proud to call hi our friend. He's been a successful showman and trainer as well as he has helped generations of up and coming horsemen and women. He is never too busy to help even the most novice rider. We can't think of a better recipient for this award."
Bob Grimshaw has a lifetime of involvement with the horse industry. Born in Victoria, BC, Bob was active in the local horse clubs and competed throughout Vancouver Island. His quest for knowledge soon saw him travelling and showing throughout the Northwest, working and learning from the area's top reinsmen and cutters.
Bob was a founding member of the BC Quarter Horse Association and owned one of the few Quarter Horse stallions in that era. By 1965, Bob turned to horse training as a profession. The Grimshaw's were heavily involved in many prestigious events, including the World and Police Fire Games, World Equestrian Games in Jerez, Spain, USET Festival of Champions in Gladstone, New Jersey and made many successful trips to Oklahoma City and the AQHA World Championship Show.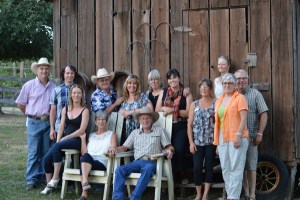 Apart from the overseas adventures, Bob added many National and International titles to his credit, including training 13 AQHA Champions, AQHA World Show Top Ten placing's in Halter, Western Riding, Working Cow Horse and Trail. He was APHA World Champion Working Cow Horse, APHA Reserve World Champion Reining Horse, and the High Point Working Cowhorse of the Nation in 1979, 1980, 1981, Canadian National Championships in Halter, Cutting, Working Cowhorse, and Western Riding. He was two time winner of the Calgary International $10,000 Hackamore Working Cowhorse Championship on two different horses, Canaidan Reined Cowhorse Association Snaffle Bit Futurity Champion, Canadian Reined Cowhorse Association Open Bridle Champion with multiple futurity champions in Halter, Western Pleasure, Reining, and Cowhorse. In addition, Bob acted on the screening committee for the American Quarter Horse Association.
There is no better way to begin to reflect on the life and long equestrian career of Bob Grimshaw than by talking about his life as it is today. Now approaching 80, the man who has had so much involvement and influence on the Quarter Horse world is still riding horses, although he seems to have a growing fondness for warm climates and the herd now stand at two steady horses. He continues to guide and influence yet another generation of riders.
Bob will also always be happy to sit you down and tell a tale of how it was and the fun that was had. He was one of the originals on the AQHA circuit on Vancouver Island taking his family on the road from show to show with their youth riders. He was there when HYPP was yet a mystery. Their training barn stood some of the most influential stallions and he rode some of the best horses around. He has seen how horses have changed, witnessed trends and participated in the trial and error of developing horsemanship.
Barb Grimshaw is equally deserving of a lifetime achievement. She has been the woman behind the man and been the inspiration and support for Bob and equally involved with the horse industry as they travelled the world together with and for horses.
Congratulations Bob Grimshaw!