For immediate release
Mission Rider Wins Horse Council BC's 2015 Junior Athlete of the Year Award 
Langley, BC, May.26, 2016 – Horse Council BC Board member Debbie Rogal presented the HCBC 2015 Junior Athlete of the Year Award to Natalie Alves at the All Arabian Horse Association of BC's (AAHABC) Annual Club Banquet at Thunderbird Show Park in Langley, BC on May 6th.
Horse Council BC's annual awards serve to honour outstanding achievement within BC's equestrian community.  These awards acknowledge those who have stood out from the crowd over the past year and who have made a positive impact on the community as a whole. Each award recipient was nominated by two or more other Horse Council BC members for an award.
HCBC is reaching out to the various equestrian communities throughout BC so that we are able to present each award at a recipient's club, event, competition, or barn of their choice, surrounded by their friends and the people that support them.
The HCBC Junior Athlete of the Year Award recognizes outstanding athletic performance by an athlete 17 years of age or younger, competing in a recognized equestrian discipline taking part on a team or as an individual representing BC at either the provincial, national and/or international level during the year.
The 2015 Horse Council BC Junior Athlete of the Year Award was presented to Natalie Alves of Mission, BC.  Natalie is a talented equestrian who competes locally, regionally, nationally and internationally. In 2015 she attended shows in Langley BC, Scottsdale, Arizona and Brandon, Manitoba.
Natalie and her equine partner, Shake It Up Baby, also known as Stella, compete in multiple disciplines including Half Arabian English Show Hack and Ladies Side Saddle. This year has been particularly meaningful to her. In March of 2015, Stella suffered from a severe colic and underwent surgery to save her life. Natalie cared for her daily during the 90 days of stall rest. Natalie and Stella began to ride together again in June with the guidance of her vets and in August, Stella was given the clear to compete.  Together Natalie and Stella brought home 5 Canadian National Championships. An incredible accomplishment on its own, but considering the circumstances, amazing! In addition to these accomplishments, Natalie spent much of 2015 riding and showing horses owned by others, both in hand and under saddle, in over 20 different classes including sport horse, hunter pleasure and halter. One of these horses is a beautiful hunter mare named FS Love Story owned by Susan Barillaro. Natalie rode the 6 year old mare to a Canadian National Championship in Purebred Hunter Pleasure.
Natalie is an active volunteer. She has performed many jobs including ring stewarding, ribbons/gates, year-end banquet, fundraising initiatives and youth volunteer recruitment. Natalie received the AAHABC Outstanding Youth Volunteer Service award. Natalie is a regional vice director for Region 17. She was recently recognized by AHYA as the 2nd runner up for Youth of the Year for North America, being short listed from over 3000 youth members. Natalie has even represented Canada performing as the official flag bearer at many shows including Canadian Nationals this year.
Natalie is also a 4 year Horse Council BC High School Program participant recognized for Equestrian, Academic and Volunteer Excellence. She graduated high school in 2015 with 5 years of honour status and has just completed her first year at UFV.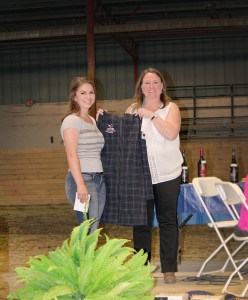 Photo: HCBC Board Member Debbie Rogal presenting Natalie with her personalized Asmar Equestrian jacket for 2015 Junior Athlete of the year at the All Arabian Horse Association of BC's Annual Club Banquet at Thunderbird Show Park in Langley, BC on May 6th. Photo credit: Tamara Alves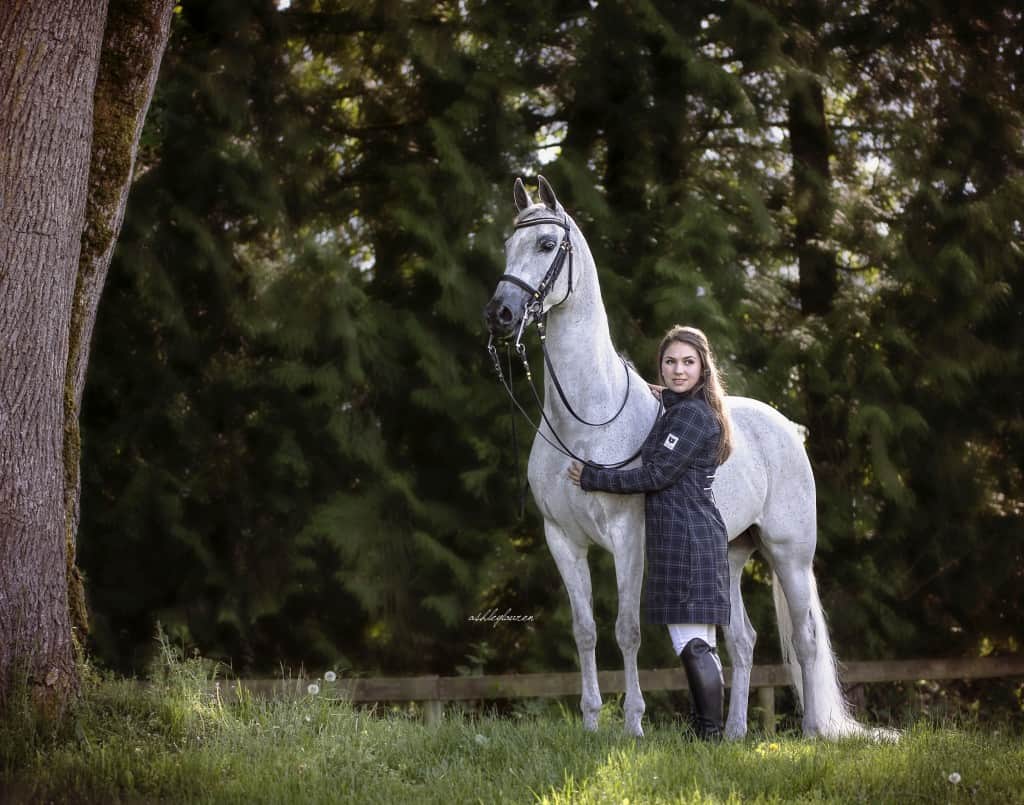 Photo: Natalie in her 2015 Junior Equestrian of the Year jacket and her horse Shake It Up Baby //+ (aka Stella). Photo credit: Ashley Lauren Photography.
###
Source: Aynsley Cairns
Marketing & Communications Coordinator
Horse Council BC
Tel: (604) 856-4304 ext. 1003
E-mail: [email protected]
About Horse Council BC
Horse Council BC is a membership-driven not-for-profit association representing the interests of the equine industry in all sectors throughout British Columbia. Tradition, strong values and superior hard work provided by our volunteers has made Horse Council BC the largest and most successful multi-discipline, multi-breed equine association in Canada.
Horse Council BC continues to grow each year with membership reaching over 23,000 in 2014. Horse Council BC actively represents the equine industry in agriculture, industry, sport, and recreation through education, grant funding, club support, government lobbying, liability insurance, and participant programs.