For immediate release
Langley, BC, July 05, 2016 – Horse Council BC Zone Director Chris Pack and Jane Tidball of Thunderbird Show Park  presented the Horse Council BC (HCBC) 2015 Horse of the Year Award to Wallabee and his owner Jolene Benham at Thunderbird Show Park in Langley, BC on July 2nd.
HCBC's annual awards serve to honour outstanding achievement within BC's equestrian community.  These awards acknowledge those who have stood out from the crowd over the past year and who have made a positive impact on the community as a whole. Each award recipient was nominated by two or more other Horse Council BC members for an award.
HCBC is reaching out to the various equestrian communities throughout BC so that we are able to present each award at a recipient's club, competition, or event of their choice, surrounded by their friends and the people that support them.
The HCBC Horse of the Year Award (competitive category) is awarded to any horse that has achieved a high level of success in any provincial, national or international sanctioned competition in a recognized discipline. The horse must have been born and raised in British Columbia.
The 2015 Horse Council BC Horse  of the Year Award was presented to Wallabee and his owner Jolene Benham at Thunderbird Show Park during the West Coast Classic competition on July 2nd.  Wallabee is truly a horse British Columbia should be proud of. In 2015 at the age of 18, Wallabee partnered with Kassidy Keith for hunter and equitation divisions as well as with his owner Jolene in the jumper ring.  He took Kassidy on to win the 2015 CET Medal National Final and the Jump Canada Medal Final Title at the Royal Winter Fair.  He also was reserve champion in the Junior Hunter division and finished in the top ten in both hunter derby finals.
In September, Wallabee and Kassidy won the Washington State Hunter Jumper Medal Finals at the Northwest Autumn Classic.  At Thunderbird in October, Wallabee helped Kassidy earn the New Generation Trophy at the Western CET Regional Final and at the same show, Wallabee and his rider came away with the Jump Canada Medal, Thunderbird Good Hands and Seat Medal Finals.
Throughout the 2015 show season, Wallabee either won or was the equine partner behind the win of the "Alf Fletcher Award of Excellence", $5000 Cobblestone Hunter Derby at Tbird, $2500 Junior Amateur Owner Hunter Classic at Royal West and Reserve Championship in the RMSJ Medal Final.
On behalf of Horse Council BC, Congratulations to Jolene and Wallabee!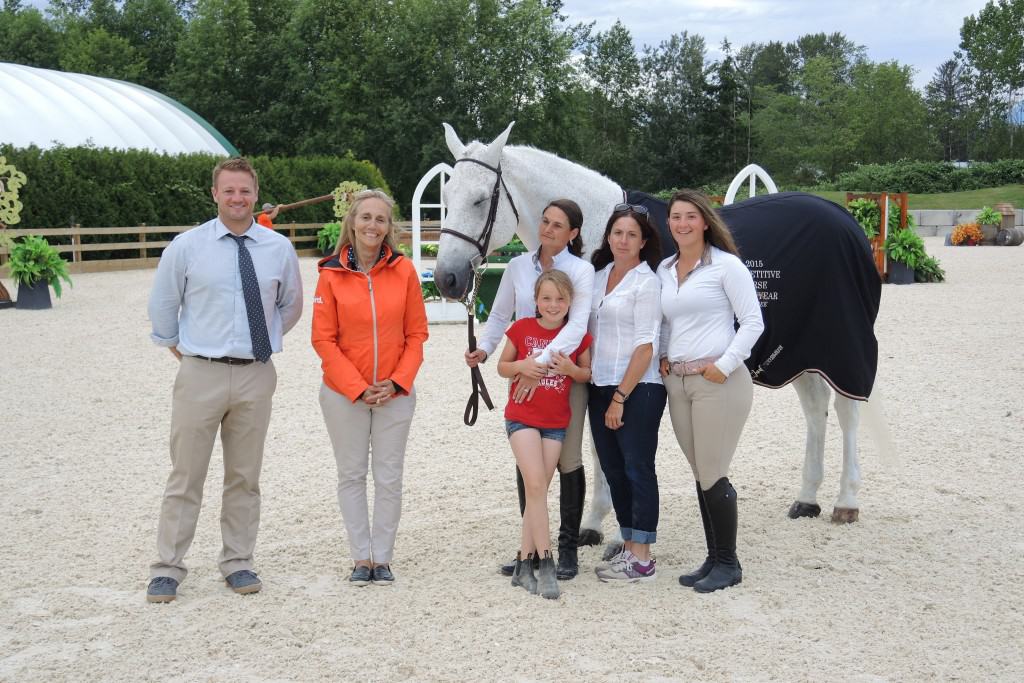 Photo: Chris Pack & Jane Tidball present Wallabee, Jolene Benham, Cheryl Keith, and Kassidy Keith with the Horse of the Year Award at Thunderbird Show Park.  Photo Credit – Totem Photographics .
###
Source: Aynsley Cairns
Marketing & Communications Coordinator
Horse Council BC
Tel: (604) 856-4304 ext. 1003
E-mail: [email protected]
About Horse Council BC
Horse Council BC is a membership-driven not-for-profit association representing the interests of the equine industry in all sectors throughout British Columbia. Tradition, strong values and superior hard work provided by our volunteers has made Horse Council BC the largest and most successful multi-discipline, multi-breed equine association in Canada.
Horse Council BC continues to grow each year with membership reaching over 23,000 in 2014. Horse Council BC actively represents the equine industry in agriculture, industry, sport, and recreation through education, grant funding, club support, government lobbying, liability insurance, and participant programs.