For immediate release
Langley, BC, July 05, 2016 – Horse Council BC Director At Large Gary Patterson presented the Horse Council BC (HCBC) 2015 Horse Industry Professional of the Year Award to Noel Asmar of Noel Asmar Equestrian at Thunderbird Show Park in Langley, BC on June 12th.
HCBC's annual awards serve to honour outstanding achievement within BC's equestrian community.  These awards acknowledge those who have stood out from the crowd over the past year and who have made a positive impact on the community as a whole. Each award recipient was nominated by two or more other Horse Council BC members for an award.
HCBC is reaching out to the various equestrian communities throughout BC so that we are able to present each award at a recipient's club, competition, or event of their choice, surrounded by their friends and the people that support them.
The HCBC Horse Industry Professional award recognizes either a professional individual or equine business that has provided outstanding service/products to BC's equine community on a one-on-one basis or overall.
The 2015 Horse Council BC Horse Industry Professional of the Year Award was presented to Noel Asmar.  Noel is the Founder and CEO of Noel Asmar Equestrian, an internationally acclaimed equestrian apparel brand based in Surrey, BC.  Noel's passion to empower her fellow equestrians through fashion is evident in all that she does.
Noel has been involved in the development of the equestrian community in British Columbia at a variety of levels. She continues to cultivate young talent through her support of the Canadian dressage team at the NAJYRC as well as the BC Pony Club. Noel also supported the first CDI event at Thunderbird last Spring, and the FEI World Cup Show Jumping Qualifier last August. Putting B.C. on the map of equestrian destinations, Noel was a sponsor of the Anky van Grunsven and Charlotte Dujardin dressage clinics, dressing all of the riders to look and feel their best in front of the world champion, and inspiring local riders to continue developing their talent.
Helping local talent to flourish, Noel has partnered with a number of dressage and jumper riders to assist them in pursuing their dreams in the international ring, including WEG competitor Karen Pavicic and show jumper Laura Jane Tidball. Noel understands the consuming nature of equine sport and supports riders at all levels. Her innovative fashions continue to elevate our traditional sport through modern technology and revolutionary fabrics, and Noel Asmar is proud to produce more than 70% of her collection in Vancouver.
As an established businesswoman, Noel has been recognized for two consecutive years among Canada's Top 100 Female Entrepreneurs and she continues to grow her business internationally. Her passion for the horse industry inspires her employees, her friends and acquaintances and the journey is just beginning.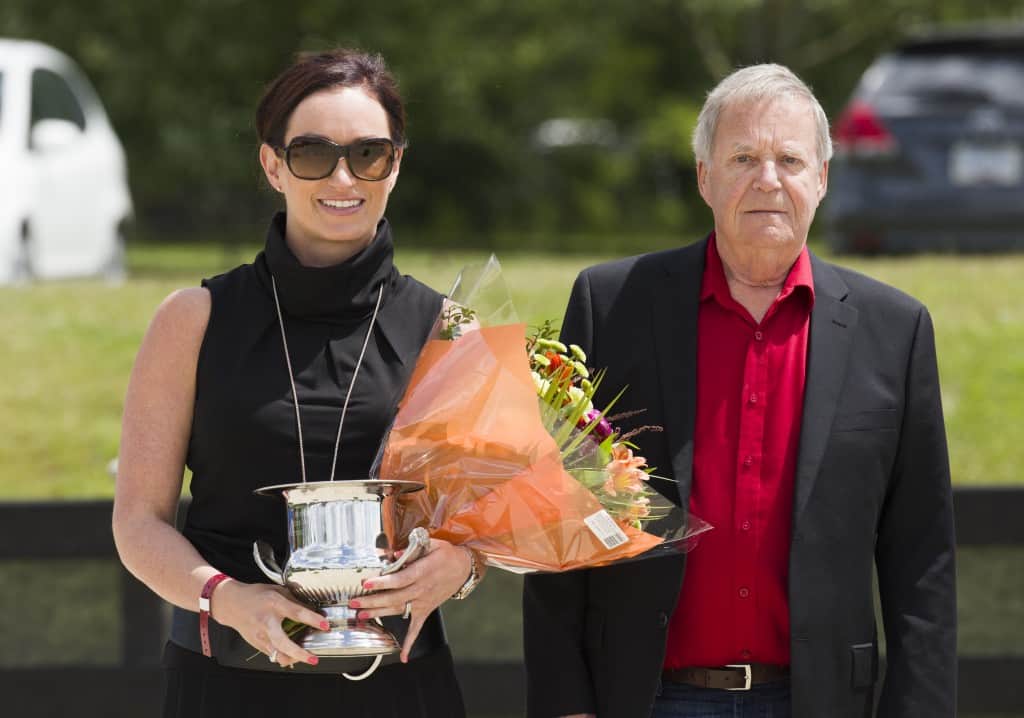 Photo: Noel Asmar and presenter Gary Patterson at Thunderbird Show Park.  Photo Credit – Cara Grisham.
###
Source: Aynsley Cairns
Marketing & Communications Coordinator
Horse Council BC
Tel: (604) 856-4304 ext. 1003
E-mail: [email protected]
About Horse Council BC
Horse Council BC is a membership-driven not-for-profit association representing the interests of the equine industry in all sectors throughout British Columbia. Tradition, strong values and superior hard work provided by our volunteers has made Horse Council BC the largest and most successful multi-discipline, multi-breed equine association in Canada.
Horse Council BC continues to grow each year with membership reaching over 23,000 in 2014. Horse Council BC actively represents the equine industry in agriculture, industry, sport, and recreation through education, grant funding, club support, government lobbying, liability insurance, and participant programs.