Date: August 18-21, 2016
Location: Le Mans, FRA
The Canadian Vaulting Team athletes competed at the FEI World Vaulting Championships from Aug. 18-21 in Le Mans, FRA.
The team was led by Chef d'Équipe Debbie Bentzen, from Parksville, BC, and consisted of:
| | |
| --- | --- |
| Athlete | Hometown |
| Danielle Adams | Parksville, BC |
| Charlotte Axani | Calgary, AB |
| Alexandra Ballance | Qualicum Beach, BC |
| Jessica Bentzen | Parksville, BC |
| Ariadne Greekas | Qualicum Beach, BC |
| Averill Saunders | Sundre, AB |
| Jeanine van der Sluijs | Olds, AB |
Bentzen and the team provided an inside look into what it takes to make it to the World Championships, and what the experience was like.
"The past year has been a whirlwind of training, working and fundraising," said Bentzen. "The athletes have trained on average 20 hours a week, and when not training they were working or fundraising. The grand total of our fundraising efforts was just over $19,000."
Vaulting is often described as gymnastics on horses, involving intricate and often risky moves both atop and alongside the horse. Vaulting horses are not saddled but wear a surcingle or a roller and a thick back pad. The surcingle has special handles which aid the vaulter in performing certain moves, as well as leather loops called "cossack stirrups."
Some of the basic moves include the Swing Off and the Stand. In the Stand, the vaulter moves from the astride position onto their shins and immediately onto both feet, and releases the grips and straightens up with both knees bent. The position must then be held for four full strides.
At the World Championships, the Canadian Vaulting Team finished in 12th place as a squad and reflected on their experience as one they'll never forget.
"In the weeks leading up to Worlds you wonder what it is going to feel like in that arena, against the top athletes in the sport," said Jessica Bentzen, 25. "I was pleasantly surprised when we ran in, how inviting it felt, and how easy it was to look around in there and feel the positive energy of the crowd; it was very inspiring. Though it wasn't our best performance, I left the arena feeling excited to push myself to being better and come back stronger than ever next year."
The team members also discussed the importance of banding together as friends and teammates and learning to trust one another.
"It was a great honour to be up against Team France and all the other amazing teams," said Ariadne Greekas, 11. "We learned a lot about ourselves and what it takes to be a team."
Bentzen agreed, noting the growth the team has experienced on a personal level.
"These athletes have learned through trial and error how to trust their teammates, the importance of cross training and conditioning, and the power of believing in yourself," she said."I can say with no reserve that throughout this past year, there have been many tears shed, many new skills learned, and friendships made that will last a lifetime. Facing the competition at a world class level has left our vaulters inspired and determined to work harder and keep Canada moving forward in the sport of vaulting."
For more information on the FEI World Vaulting Championships, please visit: http://pole-europeen-du-cheval.com/results/.
Addition: HCBC provided each BC Vault Athlete with $250 towards travel expenses from the High Performance Athlete Travel Assistance Fund.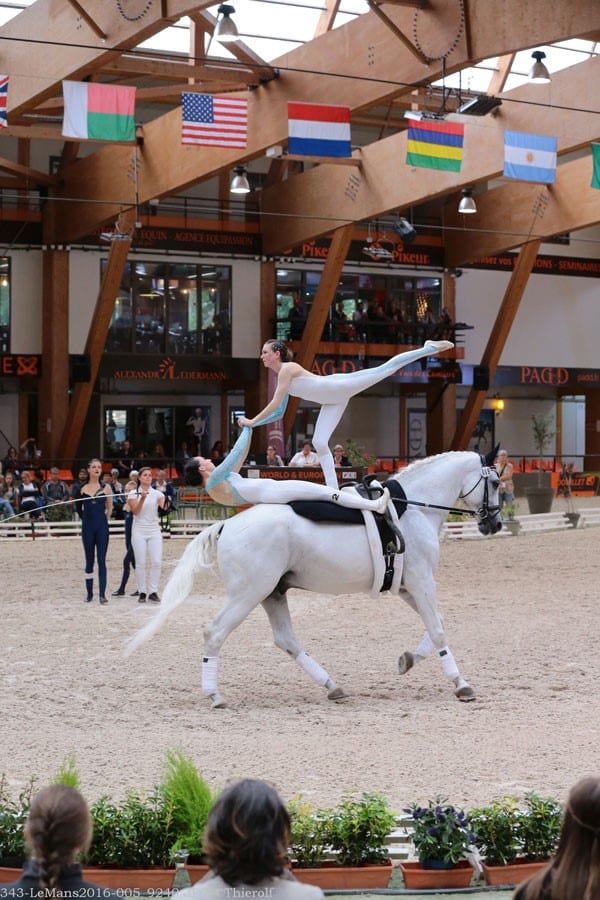 PHOTO – Canadian Vaulting Team members, Jessica Bentzen, Averill Saunders and Alex Balance perform their freestyle routine at the 2016 FEI World Vaulting Championships while being lunged on Charlie, a 16-year-old Slovakian Warmblood owned by RVC Gilching in Germany.
PHOTO CREDIT – Marc Schuirmann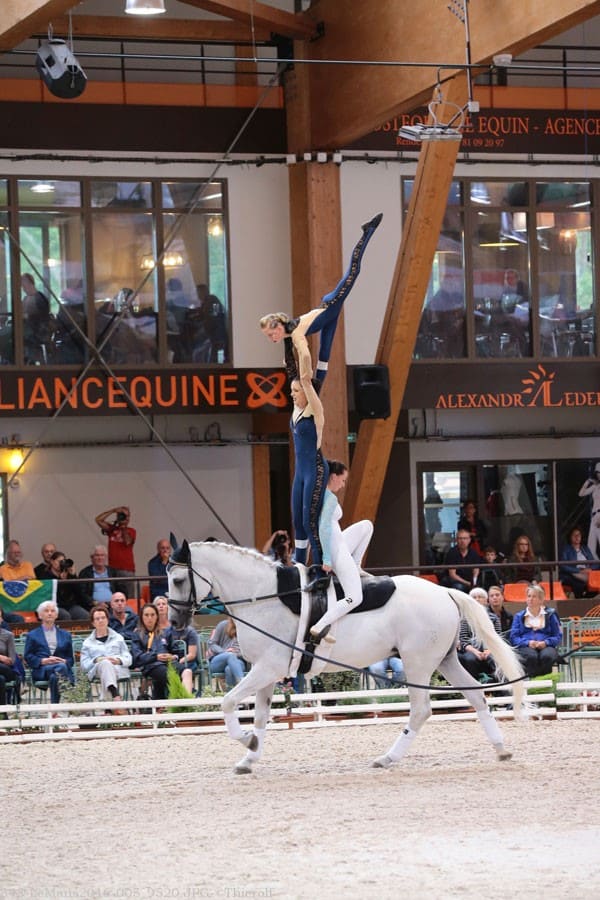 PHOTO – Alex Ballance and Danielle Adams perform their freestyle routine at the 2016 FEI World Vaulting Championships in Le Mans, FRA.
PHOTO CREDIT – Marc Schuirmann