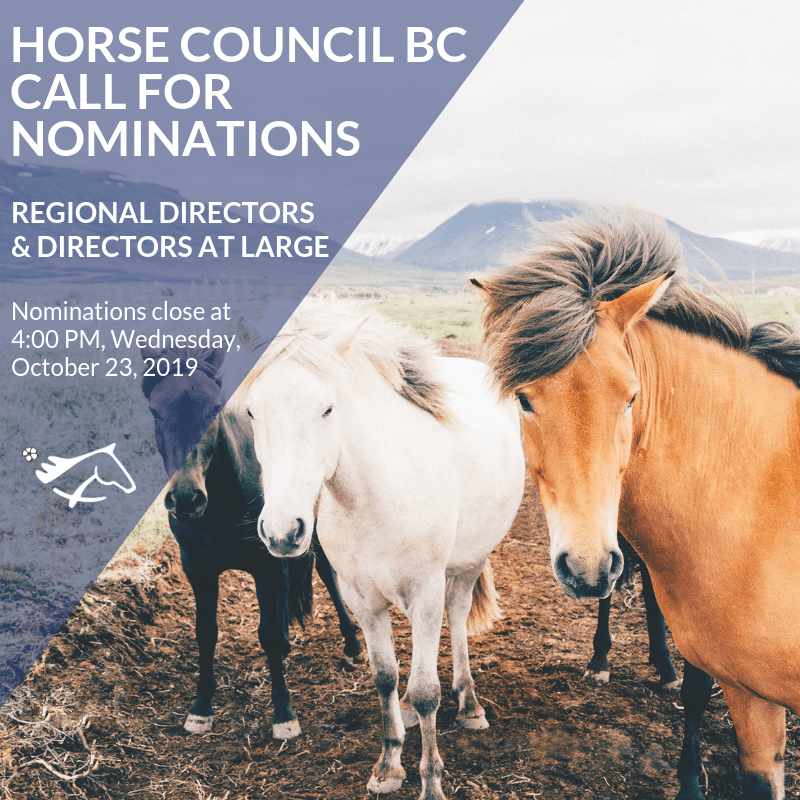 Horse Council BC (HCBC), in accordance with the organization's by-laws, is seeking candidates for one position for each of 6 HCBC Regions, each for two year terms. As well as seeking candidates for two positions of Directors at Large, each for two year terms.
Nominations and elections for regional directors are being held for: the East Kootenays, Thompson Shuswap, Peace River, Vancouver Island North, Vancouver Sunshine Coast and Fraser Valley East Regions electing representatives for a two year term. Click here to view the Regional Map.
IMPORTANT NOTE: Nominations close at 4:00 PM, Wednesday, October 23rd, 2019.
Prospective candidates interesting in serving on the Board of Directors are encouraged to review the Roles & Responsibilities, eligibility information, timelines, instructions and submit a completed the Nomination Form by the deadline.
Ideal candidates include dedicated individuals with the dynamic and relevant skills to take on a leadership role in the governance of the organization. Directors will have the opportunity to help HCBC effectively deliver on the mission, and vision of the organization.
Click here to view the Director at Large Nomination Package
Click here to view the Regional Director Nomination Package