COVID SPORT GUIDELINES
HCBC Office COVID Safety Plan: HCBC covid-19-safety-plan-Return to the Office (v.UPDATED 2021-06-16)
Updates:

viaSport BC Provincial Health Order Update September 13, 2021
Step 3 of B.C.'s Restart plan is currently in effect. Read Proof of Vaccination requirements regarding access to some events, services and businesses as of September 13, for the most current information.
Interior Health and Northern Health regions are subject to the additional measures detailed on the B.C. government's province-wide restrictions page, Interior Health's news page, and Northern Health news page. Additional measures are also in effect in Fraser Valley East.

The Order has been released and there are two components from the official Order:
Youth are exempt from the Proof of Vaccination program but the definition of youth is "persons under 22 years of age"
Adult sport will need to show proof of vaccine for indoor sport only.The Order can be found here: https://www2.gov.bc.ca/assets/gov/health/about-bc-s-health-care-system/office-of-the-provincial-health-officer/covid-19/covid-19-pho-order-gatherings-events.pdf
viaSport BC Update – September 29, 2021
B.C.'s Restart plan is in effect as of July 1.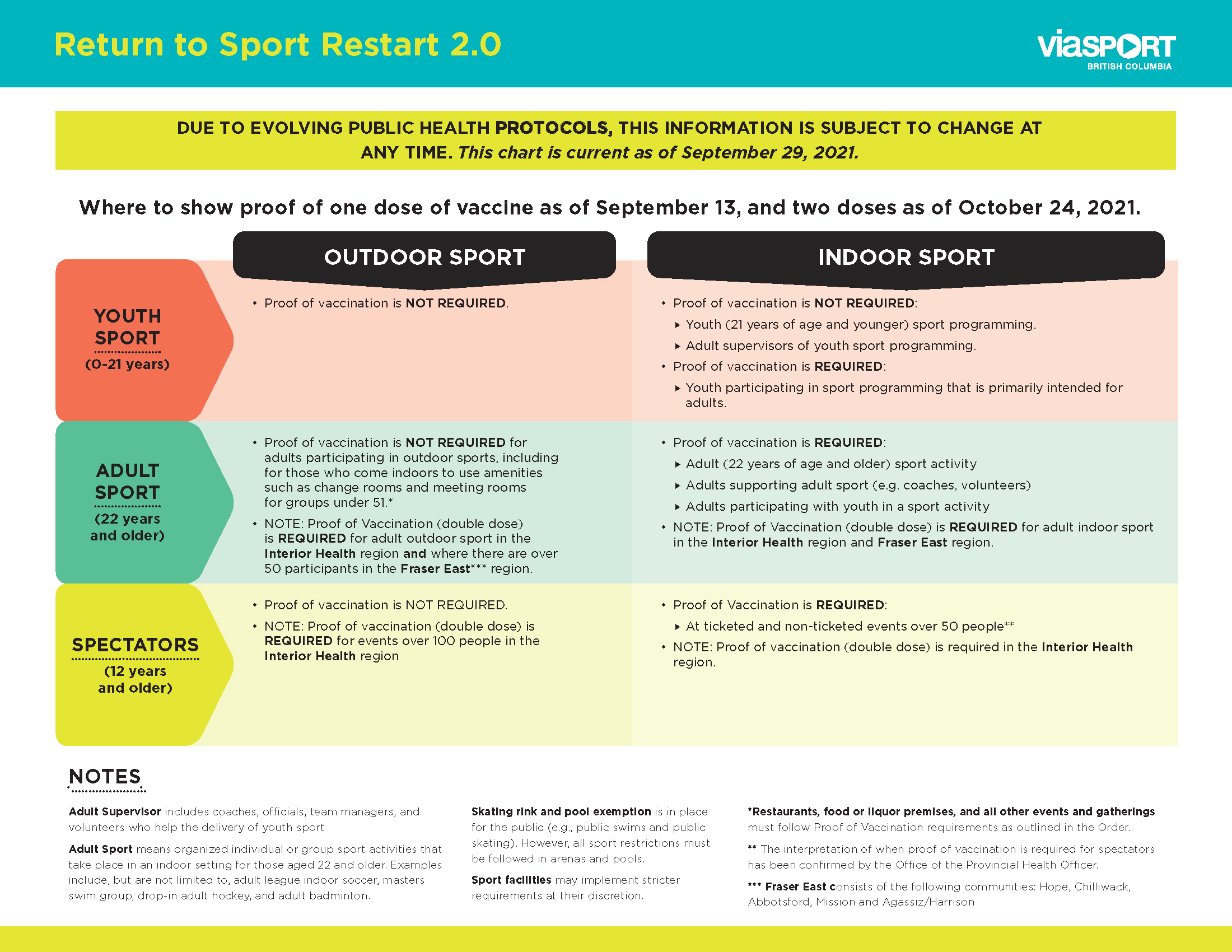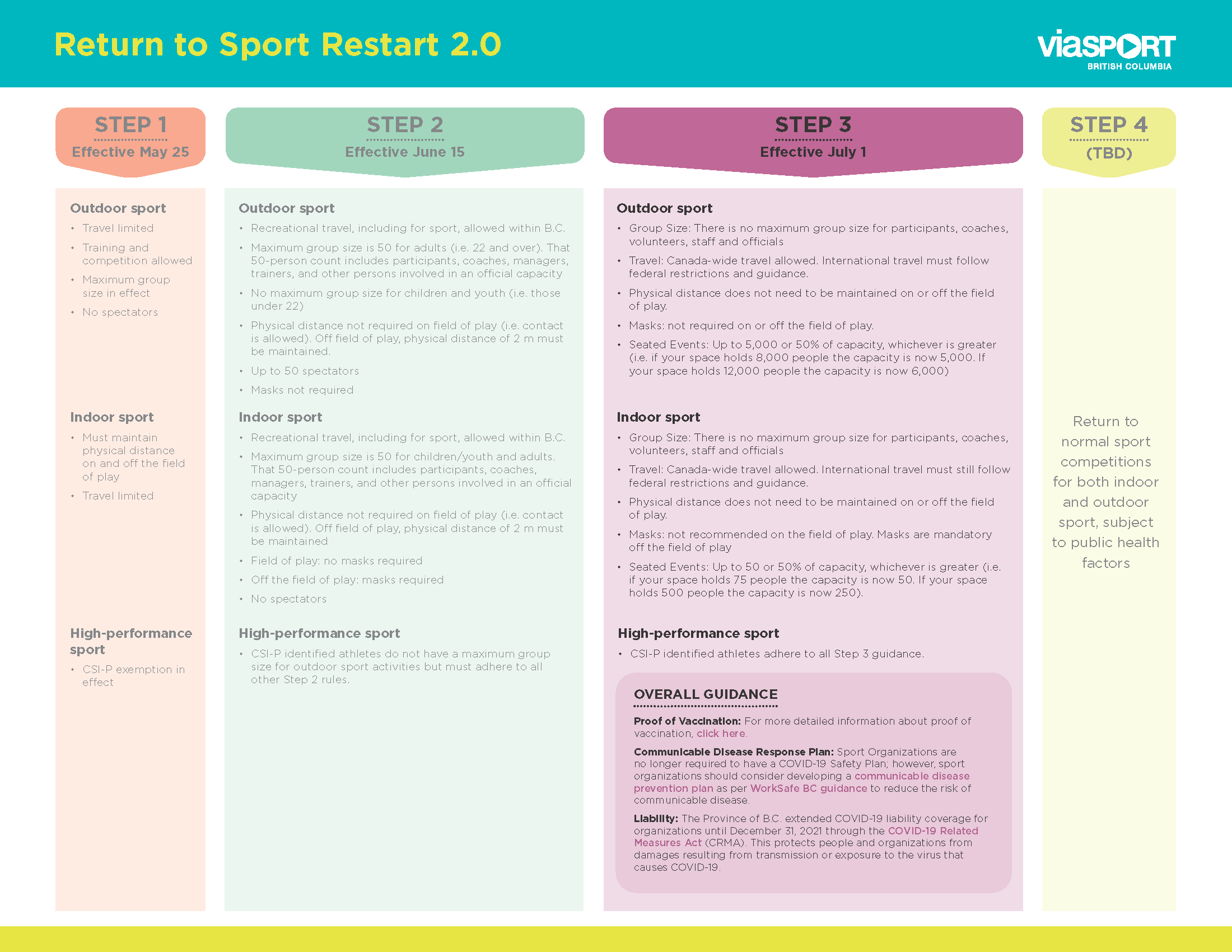 *please Click here to view the pdf and click the links
For an FAQ on Return to Sport in the province click here: https://www.viasport.ca/sites/default/files/FAQ_Restart_09-30.pdf
RELEVANT LINKS
• viaSport Frequently Asked Questions
• B.C.'s Restart Plan
• Proof of Vaccination Program information
• Travel Guidance for B.C.
• Communicable Disease Prevention Guidance
• Mask Guidance
• COVID-19 (Limits on Actions and Proceedings) Regulation
• Government of BC COVID-19 Restrictions Information
viaSport BC Provincial Health Order Update August 25 2021

PHO order on masks in public indoor settings – abridged
Masks are required in all public indoor settings for all people born in 2009 or earlier (12+).
This includes-
On public transportation, in a taxi or ride-sharing vehicle
Areas of office buildings where services to the public are provided
Common areas of sport and fitness centres when not engaged in physical activity
Common areas of post-secondary institutions and non-profit organization
Community centres
Recreation centres
There are exemptions for:
People with health conditions or with physical, cognitive or mental impairments who cannot wear one
People who cannot remove a mask on their own
Children under the age of 12
People who need to remove their masks to communicate due to another person's hearing impairment
A face shield is not a substitute for a mask as it has an opening below the mouth.
Sports
Adult and youth outdoor and indoor group and team sports
All outdoor and indoor group sports for adults and youth are allowed. This includes:
Games
Competitions
Practices
Spectators
Outdoor sport activities can have 5,000 spectators or 50% seated capacity, whichever is greater. For example, if the venue has a normal seated capacity of 30,000 people, 15,000 spectators can attend.
Indoor sport activities can have 50 spectators or 50% seated capacity, whichever is greater. For example, if the venue has a normal seated capacity of 500 people, 250 spectators can attend.
Travel for sport
Travel for sport is allowed.
Transmission in sport:
Safer Sport, Fitness, & Recreation Advisory Committee (SSFRAC) and viaSport has indicated that COVID transmission has been taking place in sport and are continuing to track this data. They will continue to monitor and collect this data in order to provide guidance to the PHO around what's next for sport. Reminder to please use this form to report any exposures in sport so that the SSFRACcan be prepared to respond with the committee.
---
viaSport Return to Sport Guidelines
The purpose of this document is to support amateur sport organizations to develop their own explicit plans to guide the cautious, step-by-step safe return of their sport in B.C. during this pandemic. The RTS Guidelines provide general information on a number of topics, and includes links to additional information and resources that can support decision-making and communication with boards, clubs, members, and other sport partners.
Click here for more information and to view the guidelines
Resource Links
viaSport Return to Play Guidelines
viaSport Return to Sport Resources and Tools
BC Provincial Health Officer Orders
BC Centre for Disease Control Covid19 Resources
Federal Ministry of Health Current COVID-19 Updates
Worksafe BC Covid19 Return to Safe Operation
Equestrian Canada Resources
Return to Business Operations Framework
Return to Competition Guidelines for the Sport Horse Following a Break in Training Due to COVID-19
Equestrian Canada Covid-19 Resource Page
Waiver Templates
Draft – COVID19 Event Participation Waiver
Draft – COVID19 Facility Waiver
Disclaimer
Each facility, business, club is unique and will need to careful consider their own circumstances. It is important to note that although Horse Council BC is providing these tools and resources to the sector we are NOT an authority on Covid-19 disease spread.  We are not offering this document as a substitute for legal or insurance advice.  There are potential health, liability and insurance exposures you should consider carefully before resuming activities at your facility or club.  We recommend you seek professional advice to ensure you mitigate your exposure and understand your risks.  Anyone using the HCBC Return to Equestrian Sport Guidelines does so at their own risk. Horse Council BC shall not be responsible for any loss or damage of any kind arising directly or indirectly from the use of the guidelines including, without limitation, reliance on the completeness or accuracy of the information provided.
The sport specific guidelines provided by Horse Council BC are meant to supplement the requirements and recommendations from BC Health Authorities and the viaSPORT guidelines and should not be used a standalone document.
Information is changing quickly, as we move forward it will be important to keep updated on the BC Provincial Health Officer Orders.