HCBC RETURN TO SPORT
HCBC Return to Sport Guidelines
Updates:
Office Operations:
Following the most recent information provided by the Province of British Columbia regarding the COVID-19 pandemic the HCBC Office remains open for mail and in person services, we do ask that all those entering the office wear a mask, sanitize your hands upon entry and maintain appropriate social distance. When possible, please phone ahead or order online bookstore orders so they can be prepared before your arrival. Some staff will be working from home and can be reached by phone or email, staff extensions and emails can be fund here: https://www.hcbc.ca/index.php/about/our-staff/. We appreciate your continued support at this time.
viaSport BC Update – July 5, 2021
Step 3 of B.C.'s Restart plan is in effect as of July 1.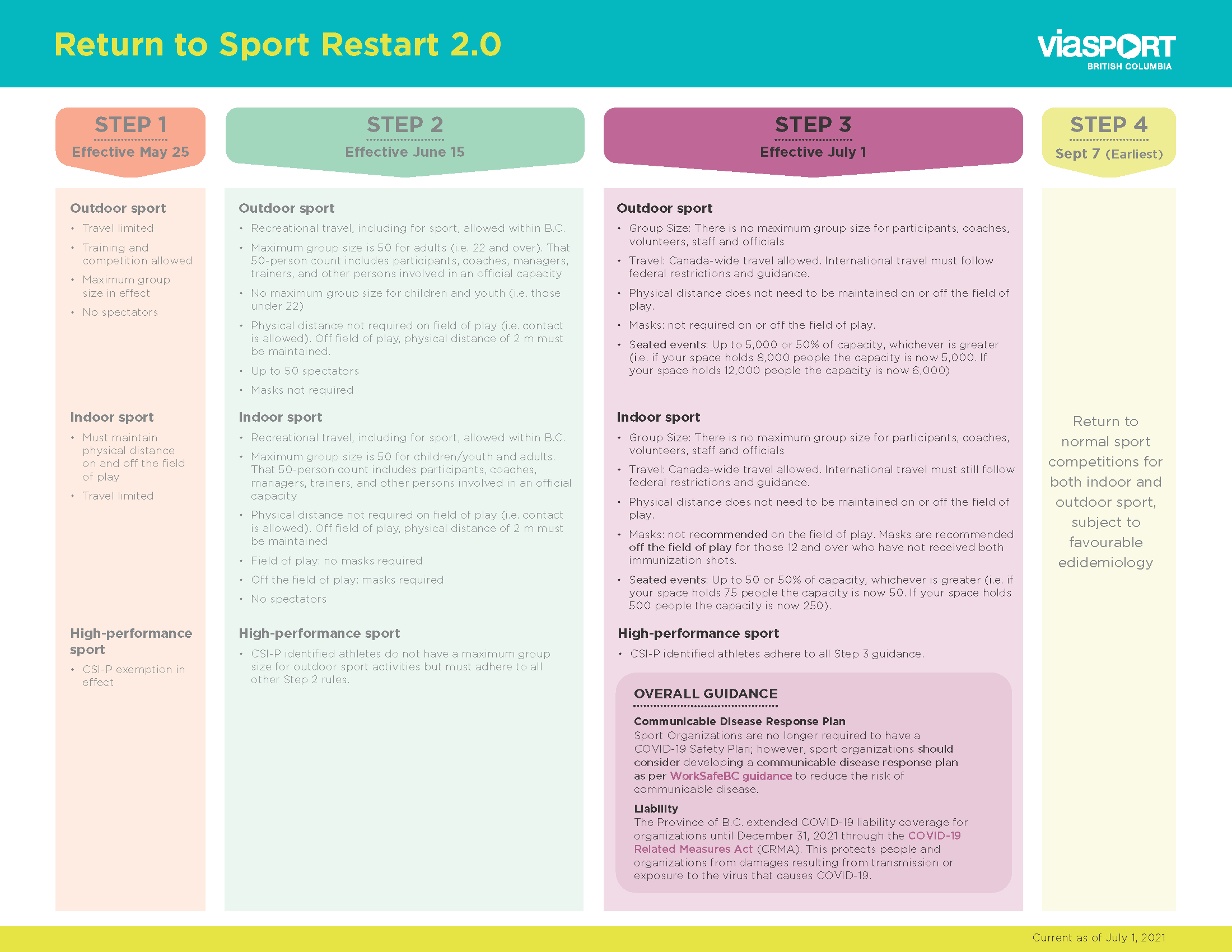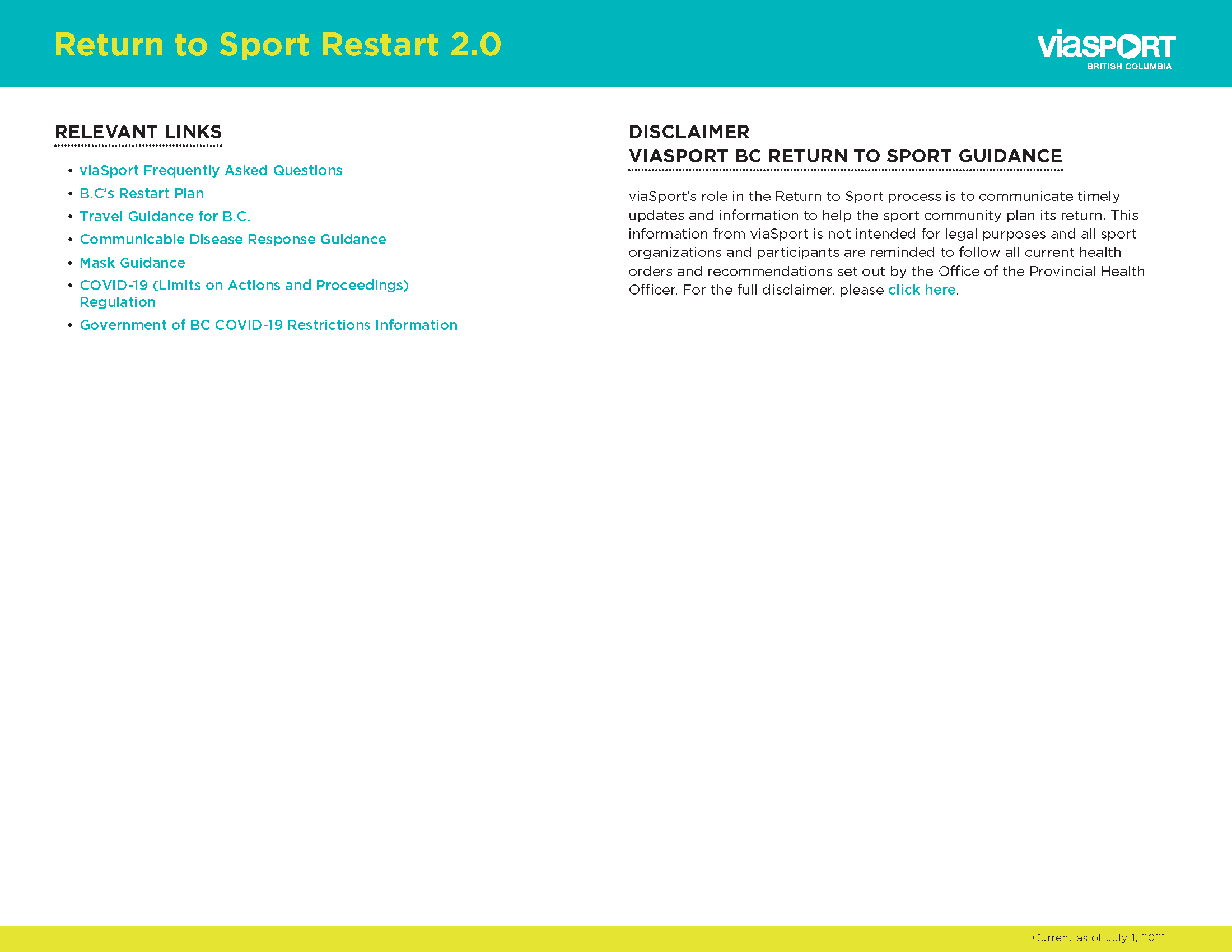 *please click here to view the pdf and click the links
For an FAQ on Return to Sport in the province click here: https://www.viasport.ca/sites/default/files/FAQ_Restart_07-01.pdf
Transmission in sport:
Safer Sport, Fitness, & Recreation Advisory Committee (SSFRAC) and viaSport has indicated that COVID transmission has been taking place in sport and are continuing to track this data. They will continue to monitor and collect this data in order to provide guidance to the PHO around what's next for sport. Reminder to please use this form to report any exposures in sport so that the SSFRACcan be prepared to respond with the committee.
---
viaSport Return to Sport Guidelines
The purpose of this document is to support amateur sport organizations to develop their own explicit plans to guide the cautious, step-by-step safe return of their sport in B.C. during this pandemic. The RTS Guidelines provide general information on a number of topics, and includes links to additional information and resources that can support decision-making and communication with boards, clubs, members, and other sport partners.
Click here for more information and to view the guidelines
Resource Links
viaSport Return to Play Guidelines
viaSport Return to Sport Resources and Tools
BC Provincial Health Officer Orders
BC Centre for Disease Control Covid19 Resources
Federal Ministry of Health Current COVID-19 Updates
Worksafe BC Covid19 Return to Safe Operation
Equestrian Canada Resources
Return to Business Operations Framework
Return to Competition Guidelines for the Sport Horse Following a Break in Training Due to COVID-19
Equestrian Canada Covid-19 Resource Page
Waiver Templates
Draft – COVID19 Event Participation Waiver
Draft – COVID19 Facility Waiver
Disclaimer
Each facility, business, club is unique and will need to careful consider their own circumstances. It is important to note that although Horse Council BC is providing these tools and resources to the sector we are NOT an authority on Covid-19 disease spread.  We are not offering this document as a substitute for legal or insurance advice.  There are potential health, liability and insurance exposures you should consider carefully before resuming activities at your facility or club.  We recommend you seek professional advice to ensure you mitigate your exposure and understand your risks.  Anyone using the HCBC Return to Equestrian Sport Guidelines does so at their own risk. Horse Council BC shall not be responsible for any loss or damage of any kind arising directly or indirectly from the use of the guidelines including, without limitation, reliance on the completeness or accuracy of the information provided.
The sport specific guidelines provided by Horse Council BC are meant to supplement the requirements and recommendations from BC Health Authorities and the viaSPORT guidelines and should not be used a standalone document.
Information is changing quickly, as we move forward it will be important to keep updated on the BC Provincial Health Officer Orders.