HCBC RETURN TO SPORT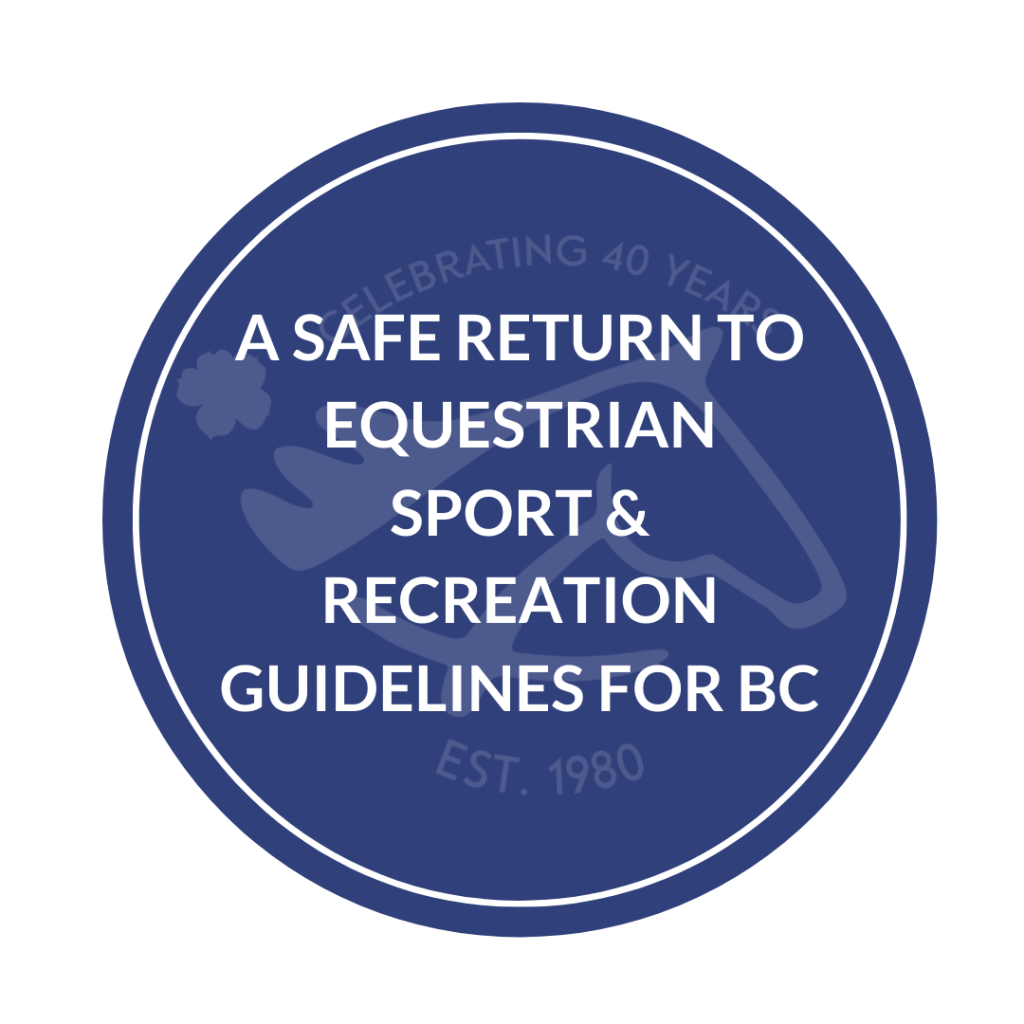 HCBC Return to Sport Guidelines
Updates:
Office Operations:
Following the most recent information provided by the Province of British Columbia regarding the COVID-19 pandemic the HCBC Office remains open for mail and in person services, we do ask that all those entering the office wear a mask, sanitize your hands upon entry and maintain appropriate social distance. When possible, please phone ahead or order online bookstore orders so they can be prepared before your arrival. Some staff will be working from home and can be reached by phone or email, staff extensions and emails can be fund here: https://www.hcbc.ca/index.php/about/our-staff/. We appreciate your continued support at this time.
Horse Council BC Update – March 2, 2021
The Gathering and Events Order that came into effect November 19, 2020 at midnight and will remain in place until further notice based on direction from the PHO. There is no immediate change to this Order.
As you are aware, the PHO and government have been closely monitoring new cases and rates of COVID-19 transmission to determine when to ease restrictions or to take additional measures to keep our communities safe. As you heard or read, they are continuing to watch these indicators and when there is confidence that new cases and rates of transmission are slowing in a sustained way, restrictions will be eased.
According to the PHO, we are not quite there yet. The PHO is looking ahead as to when it will be it safe to increase our social interactions in a limited way, which could include opportunities for youth sport.
Updates will be made available at the HCBC Return to Sport Webpage as they become available
Horse Council BC Update – February 5, 2021
As of February 5th the current health order from January 7th has been extended with no current end date.
Horse Council BC Update – January 7, 2021
On January 7, the Office of the Public Health Officer extended this Order to February 5, 2021.
As of December 24, 2020, updates have been made to the restrictions announced in the written Provincial Health Order on Gatherings and Events. These updates apply to all sport activities in B.C.
Five key points have been further clarified and are now included, and more information is available on the government website here.
Clarifications include:
"Adult team sport" refined with respect to "group sport": Group sport is defined as sporting activities involving more than one person 22 years of age and older and includes training and practice for an individual or a team sport, but does not include sport activities for children or youth, varsity sport or high-performance athlete sport activities.

If the group sport is indoors, only two persons participate (e.g. singles tennis or an athlete and a coach training session);
If the group sport is outdoors, only four persons participate (e.g. four individuals may run together or four individuals could run soccer drills).
The participants maintain a distance of three metres from one another while engaged in the group sport, unless the participants reside in the same private residence. For example, individuals should not be playing a sport with four people and then switching teams to another group of four during the same time slot.
The decision was made to update the age from 19 to 22 years of age or older because an unintended consequence to restricting adult sport and defining adult as 19 years of age and over, was the exclusion of some participants who are on the same team. There are many sports with participants on the same team who are both under the age of 18 and 19 or over. By increasing the age to 22 or older, it allows for those who are 19, 20, and 21 to continue to participate in their sports.
*Equestrian is included as a group sport if more than one person is participating at the same time
Horse Council BC Update – December 24, 2020
As of December 24, 2020, updates have been made to the restrictions announced in the written Provincial Health Order on Gatherings and Events. These updates apply to all sport activities in B.C.
Horse Council BC Update – December 4, 2020
Regarding new Provincial Health Orders issued December 3, 2020
Please note this is in addition to current Return to Sport Guidelines outlining COVID 19 protocol. Any changes or further details will be posted as received by the Provincial Health Authority.
---
November 7th 2020 update from ViaSport BC
New Provincial Health Officer Order affecting the Lower Mainland
November 7, 2020, a new Provincial Health Officer Order was put in place for all individuals, places of work and businesses across the Lower Mainland. This includes all communities within the Vancouver Coastal and Fraser Health regions, with the exception of Hope, the Central Coast, Bella Coola Valley, the Sunshine Coast, Powell River and Howe Sound. This Order will be in effect for two weeks, from November 7 at 10 p.m. until Monday, November 23, 2020 at 12 p.m. and focuses on four areas: social gatherings, travel, group physical activities, and workplace safety.
View the full update: https://www.viasport.ca/news/lower-mainland-and-fraser-valley-restrictions?fbclid=IwAR1vn-iTUJ3uNiO6D5I3vTBSbw8MlA67mKOCWNsBkg7nsT7Xyfcwa6bXtsY
---
HCBC Return to Sport Guidelines
This document has been prepared by Horse Council BC. The purpose of this document is to provide guidance to our members for a safe return to activities with strategies for mitigating the spread of COVID-19 and helping us all get back to what we love to do, riding/driving/vaulting with our horses!
During this pandemic, public health measures are constantly being re-evaluated and thus the information contained in this plan may be updated, revised, or withdrawn in light of any new information released by government health authorities.
A Safe Return to Equestrian Sport & Recreation
A Safe Return to Equestrian Sport & Recreation Plain Text Version
viaSport Return to Sport Guidelines
The purpose of this document is to support amateur sport organizations to develop their own explicit plans to guide the cautious, step-by-step safe return of their sport in B.C. during this pandemic. The RTS Guidelines provide general information on a number of topics, and includes links to additional information and resources that can support decision-making and communication with boards, clubs, members, and other sport partners.
Click here for more information and to view the guidelines
Resource Links
viaSport Return to Play Guidelines
viaSport Return to Sport Resources and Tools
BC Provincial Health Officer Orders
BC Centre for Disease Control Covid19 Resources
Federal Ministry of Health Current COVID-19 Updates
Worksafe BC Covid19 Return to Safe Operation
Equestrian Canada Resources
Return to Business Operations Framework
Return to Competition Guidelines for the Sport Horse Following a Break in Training Due to COVID-19
Equestrian Canada Covid-19 Resource Page
Waiver Templates
Draft – COVID19 Event Participation Waiver
Draft – COVID19 Facility Waiver
Disclaimer
Each facility, business, club is unique and will need to careful consider their own circumstances. It is important to note that although Horse Council BC is providing these tools and resources to the sector we are NOT an authority on Covid-19 disease spread.  We are not offering this document as a substitute for legal or insurance advice.  There are potential health, liability and insurance exposures you should consider carefully before resuming activities at your facility or club.  We recommend you seek professional advice to ensure you mitigate your exposure and understand your risks.  Anyone using the HCBC Return to Equestrian Sport Guidelines does so at their own risk. Horse Council BC shall not be responsible for any loss or damage of any kind arising directly or indirectly from the use of the guidelines including, without limitation, reliance on the completeness or accuracy of the information provided.
The sport specific guidelines provided by Horse Council BC are meant to supplement the requirements and recommendations from BC Health Authorities and the viaSPORT guidelines and should not be used a standalone document.
Information is changing quickly, as we move forward it will be important to keep updated on the BC Provincial Health Officer Orders.