Ottawa, ON, July 21, 2017 – Equestrian Canada (EC) is pleased to introduce Long-Term Equestrian Development (LTED) 2.0 — a resource to benefit all equestrian participants, from athletes and parents to coaches and officials to competition organizers and owners.
LTED 2.0 takes the proven concepts of the Long-Term Athlete Development (LTAD) model, created by Sport for Life, and applies them to equestrian sport. LTED 2.0 is the product of many dedicated volunteers, including the LTED Working Group:
Anne Welch (Chair) – ON
Jill Barker – NS
Wendy Johnston – AB
Mike Lawrence – ON
John McAssey – PEI
Doug Orr – AB
Armand Valkenborg – QC
Danielle Yaghdjian – ON
In addition, EC would like to recognize and sincerely thank the many other groups and individuals who contributed to this initiative, including the Provincial/Territorial Sport Organizations (PTSOs), competition review working groups, and EC staff.
"It is my hope that this document will serve as a touchstone upon which we can develop and deliver programmes at every stage of athlete development that are athlete-centred, coach-driven, and supported by an integrated sport system," said Anne Welch, Chair of the LTED Working Group, EC Senior Steward, FEI 1* Jumping Steward and FEI 2* Dressage Steward, who was named the 2016 EC Volunteer of the Year.
Welch continued, "Our programmes being built now will be more robust and inclusive of those on both sides of recreation and sport with clear interactive pathways. What I love most of all about this model – there is a place for each and every one of us at every stage of our life within this wonderful sport."
LTED 2.0 is now available online for digital download and hard copies will be available through the EC e-Store in the near future.
What is LTED 2.0?
LTED 2.0 is an athlete development model built upon proven sport principles and customized to equestrian athletes. It provides a clear and effective pathway for all equestrian athletes – regardless of age, experience, or discipline – to enjoy equestrian sport, whether they aim to compete for Canada on the world stage, or ride, drive or vault recreationally.
LTED is not only about building successful high-performance athletes, but also about ensuring the highest quality riding experience for every person engaged in equestrian sport, including riders with disabilities.
This will be enabled by the provincial partners working collaboratively with the national federation – all using the same LTED road map. This road map provides a clear and stage-appropriate pathway for success, whether it is a child or adult wanting to learn to ride/drive or vault, an athlete on the verge of high performance, or an individual or family participating for the pure pleasure of being with their horses and wanting to be involved in the equestrian world.
How does LTED 2.0 work?
The LTED 2.0 model is based on the athlete's stage of development rather than either their chronological age or how long they have been riding, driving or vaulting. This allows the athlete to follow a framework of developmentally appropriate training, recovery and competition in order to have the greatest chance of progressing as effectively as possible.
What are the LTED 2.0 stages?
LTED 2.0 is a generic framework that covers athletes with a disability as well as able-bodied athletes, and is shown within the graphic below. It is adapted from the Canadian Sport for Life model, with two additional, equestrian-specific stages added.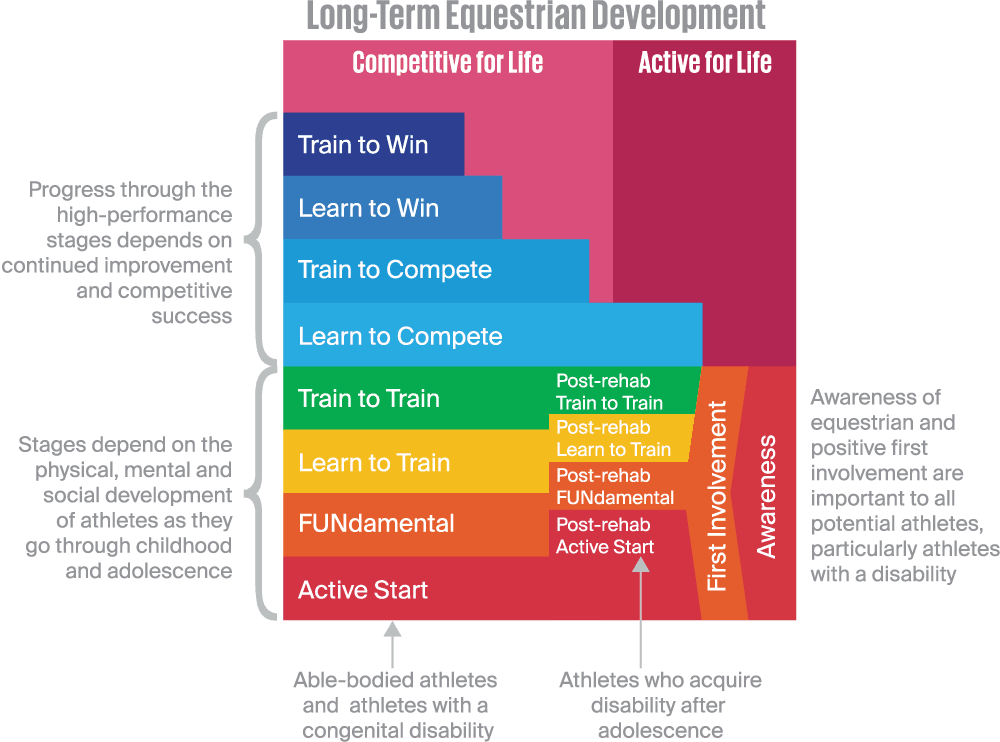 What are the benefits of LTED 2.0?
Here are just a few examples of the benefits provided by LTED 2.0:
Inclusivity
Beneficial to all levels of athletes, from high performance to recreational.
Ensures highest quality equestrian experience for everyone who engages in equestrian sport, including those with disabilities.
Recognizes the essential roles played by parents, coaches, sponsors, breeders, officials, competition organizers, stable owners, horse owners, administrators, sport scientists, and other stakeholders.
Accessibility
The model is based on stages of development rather than age or years of experience, allowing anyone to join the pathway at any time, regardless of age, ability or experience.
LTED 2.0 is available in digital format, free of charge, allowing anyone to download and begin utilizing it at any time.
Alignment
Provides a systematic pathway for a new generation of Canadian athletes to compete successfully at the highest international level.
Allows athletes, coaches, parents and stakeholders to work together toward a common pathway and goal.
Will help to improve and align equestrian infrastructure, programs and initiatives to ensure the best opportunities for all athletes and participants, whatever their personal goals or stage of development.
Growth & Participation
Assists in increasing participation in equestrian sport at both competitive and recreational levels.
Encourages equestrians to stay involved throughout their lives.
Designed to address and overcome the current shortcomings of equestrian sport – and the resulting consequences and impact.
Who should use LTED 2.0?

LTED 2.0 was designed to encourage a consistent approach to rider development and to guide the actions of everyone involved in equestrian sport, whether working with beginner or advanced athletes, able-bodied or disabled, recreational or competitive.
Equestrian Athletes
Provides a road map to enjoyable participation or sport excellence.
Shows athletes the different programs available to them as they develop and learn.
Parents
Provides an educational tool to help become familiar with the stages of development and support coaches who act in the best interest of the developing athlete.
Parents who understand LTED are in a better position to ask important questions when selecting a coach or purchasing, leasing or using a horse.
Coaches
Provides a resource to encourage further education and development of coaching skills related to the context in which they primarily coach.
Validates best practices and orients coaches to what is appropriate for skill building at each stage of athlete development, and what competitions are appropriate for each stage of development.
Officials
By understanding the optimum development of athletes in equestrian sport, officials are in a better position to suggest equipment and rule changes that are stage-of-development appropriate.
Officiating guidelines based on the LTED philosophy will highlight the important contribution of officiating in the learning and development of athletes.
Competition Organizers
Helps guide developmentally appropriate competition structure and rules, enabling athletes to progress optimally.
Well-structured competitions that are meaningful and progressive will encourage more participants to take part, producing competitions that are successful for both organizers and participants.
How do I get a copy of LTED 2.0?

LTED 2.0 is published in PDF format on the EC website at www.equestrian.ca/programs-services/lted.
To download your copy directly, simply click the button below. Printed versions of LTED 2.0 will be available soon on the EC e-Store.
Questions?
For questions regarding LTED 2.0, please contact:
Rachel Huebert
Manager, Technical Development
Equestrian Canada
[email protected]
Toll Free: 1-866-282-8395 x 115