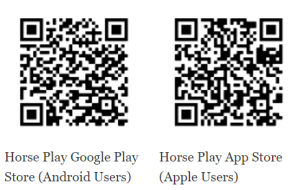 Horseplay™
Get started today by downloading the app! Go to the Google Play Store or the App Store or scan the QR codes below. Search in either store by putting horseplay wisebox into the search field. To use the web based version type horseplay.app into your web browser.
This program replaces our former Ride and Drive program allowing you to record your horse activity hours and be entered into draws to win prizes. By revamping and rebranding the Ride and Drive program we have created a program that includes all equestrians regardless if you ride or drive. And forget about paying an extra fee on top of your membership we are offering this program for FREE!
We are excited to have an app that  conveniently allows members to participate in the program and to connect you with friends. There is also an accompanying webpage version of the app for you to see your stats in greater detail and for those who do not have access to a mobile device. We encourage anyone 13 and over from the horse community to sign up and use the app. If you wish to be entered into the draws for prizes you must be a current HCBC member and be a BC resident.
Prizes, Prizes, Prizes!
Monthly, quarterly, and yearly we will be drawing prizes for Horseplay! For every 10 minutes you record of an activity in the learn, horsemanship or play category you will earn 10 points. You can only enter activities from two days prior so it is best to record daily so you don't miss the opportunity to log your minutes! After entering an activity, you will also have the opportunity to earn 5 points by answering a question and you can earn 20 points by inviting friends to connect with you in the app! We are excited to partner with many amazing BC based equestrian businesses for our gift card prizes and there are plenty to be won in the youth and adult categories. View the Prize List to see a breakdown on all the great prizes to be won!
It was certainly time for an update of the Ride and Drive program and we are hoping that this program will encourage you to learn, practice good horsemanship and have fun! Read on to discover the activities we encourage you to record in this program:
Learn
Having a foundation of knowledge is an important aspect of being an equestrian. Taking the time to learn can improve the quality of care we give to our horses, teach us how to be safer around horses and give us tips and tricks to help us carry out our favourite activities with our horse. Grab a book, find your favourite horse documentary, take a look at HCBC's online courses or go audit a clinic. These are some great ways to start gaining knowledge about our equine friends.
Horsemanship
The daily practice of taking care of our horses is an integral part to keeping them happy and healthy. One part of practicing good horsemanship involves routine stable chores such as: cleaning stalls, having clean water available at all times and managing a feeding routine. Horsemanship should also involve a daily grooming routine to give us the ability to check over our horses for any injuries, to ensure they are keeping a good weight and to make sure their feet are in good condition. Though there are more factors to good horsemanship our last point is cleaning your tack and equipment after each use. Not only will it make it more comfortable for your horse the next time you use it but it will also increase the longevity of it and allow you to check it over for wear and tear.
Play
After developing a good foundation here comes the fun part… Go Play! Having fun with our horses can take many different forms including: riding, driving, vaulting or ground work. No matter what discipline you choose to take part in, put your horses' welfare first and have fun!
And if you don't have access to a horse very often that is ok too! Did you know that spending time exercising without a horse involved improves your ability to perform your favorite horse activity? This is called cross training and can be as simple as going for a jog or practicing yoga.
Learn more about Horse Play's Privacy Policy and Terms of Service.
Business Partners
We are supporting online BC based equine businesses! If you win a gift card in a draw you get to choose from one of our partners!*
Special Guest Partners
We are excited to give away Equus Film Channel subscriptions !*
*See our Prize List with our prize category breakdown. Prizes are subject to change without notice.