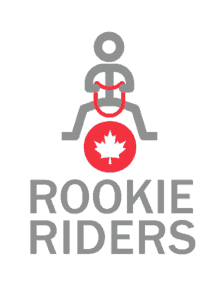 Rookie Riders
Rookie Riders program is a fun and comprehensive program that teaches activities and skills that are fundamental to success in horseback riding. The program was developed by nationally certified coaches and will be delivered across Canada. Rookie Riders includes games, basic gymnastic on mats, movements on a barrel and can even include riding a horse.
These types of skills align with FUNdamental movements and mental skills that are age and stage appropriate for children aged 6 to 12, in accordance with the National Sport for Life Long Term Athlete Development model. Children will be prepared with the basics and then be ready to move into a riding school lesson program. From there, they can move into the First Level of the National English or Western Learn to Ride program where they will continue to learn and grow as a rider.
Program Objectives
Safe and fun introduction to riding skills, horses and horsemanship – Gymnastic and Barrel activities focus on developing the skills used in equestrian sport
Group and individual activities
Provides physical, mental, and emotional engagement
Participants finish with a:
o Strong foundation in the National Learn to Ride Program – Level 1 (English and Western); and a
o Rookie Riders Progress Report and Certificate of Completion
More Information to follow.
The following Coaches and Instructors are trained to deliver the Rookie Rider Program