WHAT IS IT?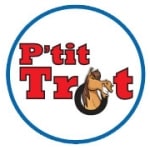 P'tit Trot is an exciting program for children who love horses and want to learn about riding English or Western and caring for horses.
The P'tit Trot book is fully illustrated throughout and introduces children 5 and over to the basics of English or Western Riding and learning how to care for a horse or pony.  The colourful drawings and the amusing antics of P'tit Trot (the name of the mascot pony), help the child discover and teach themselves the ABC's of riding and how to care for their horse or pony.

PARENTS & COACHES
Parents and coaches are invited to use this entertaining and educational presentation that is ideal for horse lovers. It can also be used to prepare and support activities offered at riding camps and as preparation to begin the English or Western Learn to Ride levels.

PROGRAM COST & PACKAGE INFO.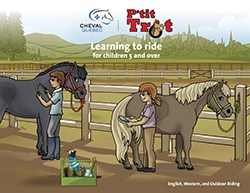 The complete program is available from Horse Council BC's bookstore for $30.00 plus postage and GST.
Included in the program package is a colorfully illustrated manual and certificates for each level. The children will also enjoy the Game Book that accompanies the manual.
Each of the chapters – Bronze Horseshoe, Silver Horseshoe, Gold Horseshoe and Platinum Horseshoe – cover specific topics on horse care and riding.
Coaches, parents, camp operators and teachers can use P'tit Trot in their programs as a teaching tool.
Contact [email protected] for more information or go to the HCBC Store to order a package.